ANNUAL MTG.: Telescope on Higher Education's Future
Join us for the "2nd bookend" to a discussion launched by Pres. Bowen *58 (9/09), now led by former university president Peter Smith '68 (comments by GW University President Emeritus Stephen Trachtenberg). RECEPTION follows.
---
A TELESCOPE on HIGHER EDUCATION'S FUTURE
"The Challenge and How to Ramp Up"

JOIN OUR ANNUAL MEETING for an ENGAGING CONVERSATION
with two pre-eminent scholars and executives in higher education.

OUR 1-Hour speaker program is preceded/succeeded by a RECEPTION.

In our 6/28 annual meeting, PETER SMITH '68 is on hand to reflect on
his new book, Harnessing America's Wasted Talent: A New Ecology
of Learning. He joins the spotlight alongside George Washington
University's President Emeritus Stephen Joel Trachtenberg, a
colleague and 30-year veteran of service as university president.

Peter Smith's book will be on hand for purchase and signing.

Our speakers offer a unique, exciting complement and focus on
the conversation begun by Princeton's President Emeritus William
Bowen *58 -- in a September 2009 program that drew such a giant
audience of Princetonians and helped launch PCW's fall programs.

On June 28 these two colleagues (Peter Smith was Dean of GW's
Graduate School of Education) will focus on the longer-term needs
of higher education at a giant transition point. The U.S. Bureau of
Labor Statistics forecasts a need for 40 million students graduating
from America's colleges by 2025; we now graduate only 19 million.
Meanwhile, MIT has put its entire curriculum online (freely available
on the web), and for-profit institutions like Phoenix and Kaplan (Peter
Smith is a Kaplan Vice President) draw students in spiking numbers.
(Phoenix enrolls nearly 150,000 students worldwide.)

QUESTIONS the PROGRAM WILL TACKLE:
- How will the (additional) educated workforce be generated?
We're producing half as many grads as are needed in 2025.
- What's required to create a 100% bigger graduation rate
needed in 2025? Is it doable?
- What are the implications for worksites, and elite colleges
like Princeton?

Join us for the DISCUSSION AND THE EXTENDED RECEPTION to follow.

NOTE: The meeting will cover the business of the Princeton Club
of Washington. Please join us and RESERVE your spot now.

Admission is free to MEMBERS, with a small charge to Non-MEMBERS.
RESERVE YOUR SEAT NOW for THIS HIGH-INTEREST EVENT.

REGISTRATION: Click for (free) Member Tickets and (economy-priced) Non-Member Seats!

QUESTIONS on registration? E - pcw@pcw-dc.org (same day response).

OUR SITE: 324 Independence Avenue, S.E. (Metro-Ready)
WE THANK Bob Martinez '75 for graciously hosting us.
Near 3rd & Independence Ave. (S.E.)
Washington, DC 20003
For MAP of SITE, GO HERE.
WHEN: June 28 (Monday), 2010 - 6:00 pm
METRO: Capitol South (Orange) or Union Station (Red)
PARKING: On streets

IF NEEDED, YOU CAN COPY and PASTE THIS SITE LINK into YOUR BROWSER ...
http://www.mapquest.com/maps?city=Washington&state=DC&address=324+Independence+Avenue+S.e.

____________________________________________________________

ONE TOPICAL ISSUE for our DISCUSSION: [QUOTE ...]
On a cool, gray evening in October 2009, a group of University
of Idaho students began trickling into the basement of a
multistory brick building tucked off to the side of a sloping,
grass-covered quad. They were there to learn math. But there
were no math professors to greet them.

Instead, students quickly spread throughout the room, finding
spaces in front of the room's 94 computers or open spots at
several tables where they could use their own laptops.

[Endquote/snip] - For the full article, go here --
http://www.educationsector.org/research/research_show.htm?doc_id=1248503

DOWNLOAD: "The Course of Innovation" (PDF) --
http://www.educationsector.org/usr_doc/NCAT-Report_RELEASE.pdf

FOR MORE on major higher education trends, see Peter Smith's new book ...
Harnessing America's Wasted Talent (2010). BOOK is on sale at the event.

~~~~~~~~~~~~~~~~~~~~~~~~~~~~~~~~~~~~~~~~~~~~~~~~~~~~~~~~~

BIOS of our DISTINGUISHED PRESENTERS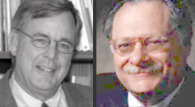 Former Congressman PETER SMITH '68 is one of higher education's
leading excutives. With degrees from Princeton (1968) and Harvard
(Ed.D. 1983), he founded and led the Community College of Vermont
(President - 1970-80) and is now Senior Vice President of Academic
Strategies and Development for Kaplan Higher Education. After a term
as US Congressman from Vermont (1989-90), he was Dean-Graduate
School of Education and Human Development at George Washington
University (1991-94), then founding President of California State
University at Monterey Bay (1994-2005), and served as Assistant
Director for Education at UNESCO in Paris (2005-7).
President Emeritus STEPHEN TRACHTENBERG remains at George
Washington as a professor, and is also the Chairman - Education
Specialty Practice at Korn/Ferry International in Washington DC.
He has been a top executive in universities for nearly 4 decades,
remains on top boards of major organizations, and in several books
has offered incisive analyses of how to face the challenges of higher
education. He served as president of George Washington University
during 1988 - 2007 (after being President at the University of Hartford).
Pres. Trachtenberg began an attorney's career with the U.S. Atomic
Energy Commission, and later served as a legislative assistant to
Congressman John Brademas and a special assistant to the U.S.
Education Commissioner in the Department of Health, Education,
and Welfare (now Health and Human Services). He taught at Boston
University (starting in 1969) as an associate professor, later taking
on roles as associate vice president and co-counsel, and finally
vice president for academic services.
Pres. Trachtenberg holds degrees from Columbia University (BA),
Yale (JD), and Harvard (Master's in Public Administration). He's
received many honorary degrees and awards and frequently
keynotes conferences and graduations.
Peter Smith's and President Trachtenberg's conversation will build
on insights reflecting Pres. Trachtenberg's career and Peter's books
which include The Quiet Crisis: How Higher Education is Failing
America (2004) plus the newest, Harnessing America's Wasted
Talent, which targets what he calls a "New Ecology of Learning."
REGISTER NOW: Email us at pcw@pcw-dc.org ...
Click for (free) Member tickets and (economy priced) Non-Member tickets!