Reunions FOCUS No. 1: APGA's 'PrinceTunes' Weekend...
Sign up for APGA's music-filled weekend at Reunions (5-27 to 5-30). The 2010 PrinceTunes theme celebrates the musical arts in Princetonian and grad alum life. Read on and register now ....
---
Come revel in this year's theme of "PrinceTunes" and celebrate the joy of music
with good food and the cheerful company of fellow alumni during Reunions 2010,
May 27-30. If you are wondering what will be happening on campus during the
Reunions Weekend -- it will keep you keep busy enough (that's guaranteed) --
then be sure to check out the many options for APGA events plus more of the
other activities going on that Thursday, Friday and Saturday.

For a detailed review of Reunion events and how to register online, TAKE TIME
to SEE YOUR OPTIONS by CLICKING HERE.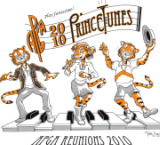 Note that a complete list of all general activities will be included in your packet
when you register or check-in on campus. The "APGA PrinceTunes Weekend"
party begins with an opening reception Friday evening in the APGA tent next to
Whig Hall. Recharge your intellectual batteries beyond evening news sound bites
at the Alumni-Faculty Forum. Have lunch and be entertained on Saturday before
marching in the P-RADE and then cool off at the "Tribute to Teaching" reception
in the Ichan Atrium before dinner with mystery guests in the APGA tent. The
spectacular fireworks display on Saturday night is always a hit!
FOR ALL REUNIONS INFORMATION, CLICK HERE...
Join us for the music, and the comaraderie. We'll see you there....