Kisk at Frist
PCW Top Performers for 2009-10
This week, we recognize 3 PCW community service efforts: Jessica Nickel '98's Adopt-a-Family project, Rosalie Norair '76 and Marty Gruenberg '75 at Alumni Schools, and Saroj Siegler '03's Haiti Fundraiser -- all top performers.
---
THIS WEEK, we give overdue recognition to 3 special initiatives run by Princeton Club-area alumni, each led by PCW Council members. These outstanding volunteers deserve congratulations from everyone.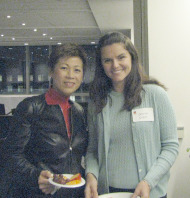 Jessica Nickel '98 (seen on the right) has served PCW thru her Adopt-a-Family Project for over a decade.
On Friday, March 12, 2010, Jessica and her team are being recognized with the "Volunteer of the Year" Award, on behalf of PCW, but she is the driver and hero of this highly-successful annual project. The project serves dozens of families each year, and (in 2009) the project provided clothing for over 70 area children. The recognition ceremony will be held at an 8 AM breakfast at the Pooks Hill Marriott (Bethesda, MD).

Marty Gruenberg '75

Rosalie Norair '76 (with Gen. David Petraeus *85 *87 - Alumni Day) -- These PCW Council members and Alumni Schools Committee leaders were recognized on Alumni Day (2/20/10) as they shared the distinction -- with several other Princeton Clubs -- of being the top performing Alumni Schools efforts worldwide.

Saroj Siegler '03 worked with a team on Feb. 26, 2010 that created the concept and raised $2500 for Haiti Reconstruction -- drawing over 165 Princeton and Ivy Alumni and their guests to the event. This is the first installment of an All-Ivy effort in DC to keep Haiti relief -- and Chilean relief as well -- in the minds of alumni throughout the year.
Hats off to each of them.