Holiday Treat: Val Vigoda '87+Gene Lewin '84/'Striking 12'
A holiday musical with alumni "flavoring" and trailing accolades. Come see why critics rave about this cast: Val Vigoda & Gene Lewin in "Striking 12." On 12/13: SHOW+meet-the-cast DAY for kids and parents -- with snacks.
---
ALUMNI - HERE'S HOLIDAY THEATER in a DIFFERENT KEY.
It's a performance with broad appeal, sure to brighten up your holiday calendar...
JOIN US for "STRIKING 12" (ARENA STAGE) with Valerie Vigoda '87 and Gene Lewin '84 in a musical special for the entire family. We offer the SUNDAY, Dec. 13 matinee at 2 pm. Afterward, we meet Valerie and her husband Brandon Millburn, Gene Lewin '84 and the crew.
GREAT SEATS available now, including Young Alumni specials.
Click here to buy your tickets online!
You don't have to take our word for it. Consider what the Washington
Post reviewer said a few weeks ago (November, 2009) --
[Quote]
"Striking 12," the musical created .... by the pop-rock band GrooveLily
and playwright Rachel Sheinkin ... [for the Arena Stage at Crystal City]
is not your grandma's Christmas pageant. It's a hip, quirky retelling of
Hans Christian Andersen's "The Little Match Girl" in a contemporary city
setting..... Molly Smith, Arena's artistic director, says the musical is "a
story about finding love in unusual places." [Endquote -- from Kay Coyte's
review in the Washington Post].
The performance uses sparse sets and costumes, and is driven by the
exuberant acting/singing of GrooveLily's Brendan Milburn/piano, Valerie
Vigoda [P '87]/electric violin and Gene Lewin [P '84]/drums....
The show has garnered accolades everywhere. Join us in welcoming Val Vigoda and Gene Lewin.
WHAT: "Striking 12" Performance (with Val Vigoda '87, Gene Lewin '84)
WHEN: Sunday Dec. 13, 2009 - 2 pm
WHERE: Arena Stage (in Arlington, VA)
Address - 1800 South Bell Street
Arlington, VA 22202 - below street level near Crystal City Marriott
NOTE: This hotel is NOT the Crystal Gateway Marriott (which is nearby).
METRO: Crystal City Station (Yellow and Blue)
DRIVING DIRECTIONS are HERE ... ARENA STAGE WEBSITE is HERE ...
Click here to buy tickets online!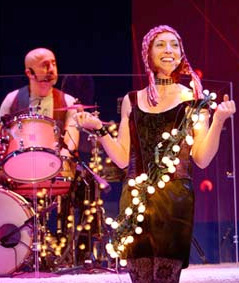 Gene Lewin '84 & Valerie Vigoda '87
FOR AN AUDIO SAMPLER, listen to music from the show HERE .....

~~~~~~~~~~~~~~~~~~~~~~~~~~~~~~~~~~~~~~~~~~~~~~~~~~~~~~~~~~~~~~~
WHAT REVIEWERS SAY ABOUT THIS SHOW ....
-- "STRIKING 12 is indeed a holiday show that has more heart and fun
than most of the manufactured entertainments competing for your
consumer dollars. - The New York Post
-- "A thoroughly winning musical with a terrific, first-rate score. It is
more artfully crafted and engaging than virtually all the standard-
mold musicals coming our way..."
- The New York Times
-- "STRIKING 12 uses convention for kindling and leaves us all basking
in the glow of the hippest holiday show in recent memory. STRIKING
12 is too hot to miss." - The San Jose Mercury News
-- "GrooveLily rocks in the new year!" - The Associated Press
~~~~~~~~~~~~~~~~~~~~~~~~~~~~~~~~~~~~~~~~~~~~~~~~~~~~~~~~~
*** MORE CRITICS' COMMENTS on GrooveLily's new 2009 release,
SLEEPING BEAUTY WAKES Classics ...
-- "A thing of beauty...magical and poignant..BEAUTY's music just
plain rocks." - LA Daily News
-- "A beguiling tour de force...brilliant entertainment in three dimensions...
Unforgettable." - Hollywood Reporter
-- "A winning combination of catchy music and deft storytelling...inventive
and highly entertaining." - Orange County Register
Shiny disc: http://www.psclassics.com/cd_sleepingbeautywakes.html
Downloadable directly from us: http://bit.ly/YZWdG
Now on iTunes too, oh yes: http://bit.ly/OoQvI
~~~~~~~~~~~~~~~~~~~~~~~~~~~~~~~~~~~~~~~~~~~~~~~~~~~~~~~~~~~~
FOR MORE on ARENA STAGE PRODUCTIONS in '09-'10 --
Check out a video preview of their 2009-2010 season:
http://www.arenastage.org/about/news/0910-season.shtml