400 at TRIANGLE -- Duke Ellington School - 8 PM - 1/25 ...
JOIN 400 at THE SHOW of 2010. It drew raves from McCarter audiences. DETAILS below. LAST CHANCE for great seats at fabulous Triangle -- Monday, 8 pm (SHARP) curtain on 1/25...
---
ALUMNI: To GET YOUR own Tickets for TRIANGLE, PLEASE GO HERE: http://www.princeton.edu/~triangle/content_page/tour.html
HEADLINE: We have 400+ Printonians and guests on hand. JOIN US!
OUR SPECIALLY-PRICED PATRON and SPONSOR RECEPTION is at 6:30 pm. OR you can support the show by buying regular tickets (for show at 8). CURTAIN rises at 8 PM SHARP.
TRIANGLE'S TRIPLE-TALENTED PERFORMERS arrive Monday, Jan. 25th.
BRING THE FAMILY and YOUR WORK COLLEAGUES!
~~~~~~~~~~~~~~~~~~~~~~~~~~~~~~~~~~~~~~~~~~~~~~~~~~~~~~~~~~~~~~~~~~~~~~~~~~~~~~~~~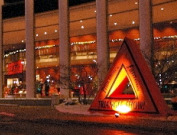 In its 119th Year, Princeton Triangle's newest show is in DC --
STORE TREK – the Out-of-this-World Shopping Spectacular.
~~~~~~~~~~~~~ THE SHOW & HOW TO GET THERE ~~~~~~~~~~~~~~
For your RECAP on TRIANGLE and TICKETS, USE LINK BELOW:
http://www.princeton.edu/~triangle/content_page/tour.html
TO JOIN the RECEPTION, YOU'LL NEED THE SPECIALLY-PRICED PATRON
or HIGHER-LEVEL TICKETS. RECEPTION STARTS at 6:30 pm.
NOTE: CURTAIN WILL GO UP at 8 pm SHARP.
JOIN YOUR CLASSMATES, GUESTS and FELLOW PRINCETONIANS.
EVENT DATE: JAN. 25 (at the Duke Ellington School) in Washington, DC
WHEN: 8 PM - SHARP -- CURTAIN GOES UP
WHERE: Duke Ellington Theatre - Duke Ellington School of the Arts
ADDRESS: 3500 "R" Street NW - Wash., DC 20007 - Corner of 35th St. & R St.
PARKING: READ SIGNAGE CAREFULLY. North & West of the School offer best spots.
MAIN ENTRANCE: IS on 35th ST. - USE BIG STEPS next to
supersized GREEN ADIRONDACK CHAIR
SEE MAPQUEST for more 'How-to-Get-There' STEPS -- GO HERE ....
ALL TICKET OPTIONS ON HAND right now at TRIANGLE's SITE:
http://www.princeton.edu/~triangle/content_page/tour.html
Get your kick from the famous kick-line and so much more on January 25th.
~~~~~~~~~~~~~~~~~~~~~~~~~~~~~~~~~~~~~~~~~~~~~~~~~~~~~~~~~~~~~~~
THE PROGRAM: Who but Triangle would boldly go where no Musical
Comedy has gone before... a song, dance and laugh-filled smackdown
of the Big Box Store? (Guess which one...)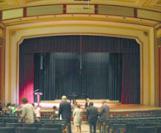 The Duke Ellington Theatre is our host ....

HERE are KEY REASONS WHY YOU SHOULD ATTEND the Jan. 25th SHOW:
-- A fine theater for experiencing this year's great "STORE TREK" show.
SITE: Theater at the Duke Ellington School for the Arts (in Washington, DC).
-- Special Reception (with special pricing) BEFORE the 8 pm SHOW
-- Great range of ticket choices for this Broadway-quality show, and fine
opportunities to support the Tigers performing in the show.
-- Parking will be available both at and near the school grounds, so no
fears about typical Georgetown parking issues.
-- It's a great experience for the whole family, as well as neighbors
and any in-laws you can corral.


SIGN UP at THIS LINK -- CLICK HERE.