FULL Dinner at Tigers-Wharton Table...
FULL TABLE on 12/05 at one of the newest tables in December (pre-party season). This is a table for 12 (restaurant version) for Princeton-Wharton... Please read on
---
ALUMNI: NEW DECEMBER 2009 DINNER ... some
NEW DINNERS (in JAN., FEB.) TBA soon.
NEW: Princeton - Wharton Dinner for 12 - **FULL TABLE**
PCW member Chris Wunz '96 (and Wharton grad)
INVITES 5 other couples (or 10 guests) to a restaurant
DINNER ON SATURDAY, Dec. 5, 2009 - 8 pm
TABLE for 12 at Harry's Tap Room
HARRY'S - fine restaurant in busy Northern corridor of
Arlington, VA (Clarendon area/Metro-ready)
TO REGISTER for this table, email ... cwunz@corefg.com
SPOUSES/COUPLES WELCOME at EACH DINNER ...
FOR COMPLETE LIST of ALL DINNERS, GO HERE.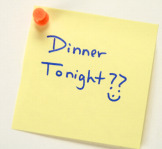 A good option in North Arlington (Metro-ready).
TO REGISTER for this table, email ... cwunz@corefg.com
GUIDES: We're helping you share a meal and great conversations.
You may see a big menu, or a simple one. Host will tell you.
If it is a RESTAURANT meal, you choose what's on the menu, and
we'll work to address the needs of frugal table guests.
For this round of dinners, we're keeping a 50-50 twin-Ivy split at the
table. 6 Tigers+6 Wharton alums (say) at a table for 12.
With regular dinners -
1 - Host offers 1 dish; guests -- at host's request -- bring the rest.
2 - Meals range from a simple salad, wine, cheese and dessert (or
something close) to whatever your host suggests.
(Last winter, a few cooked everything, but that's a rarity.)
3 - Some have room for 12, some for 8 -- all options work well.
4 - Once the table's filled, we get the info, and post a "DINNER FULL"
sign. (If you prefer to be wait-listed, the host will help you.)
THAT'S IT. Guests may help clean up (or host chooses to do it).
CONTACT PCW at pcw@pcw-dc.org if you have questions.
Framework: Half these tables are Tigers, half from another Ivy Club