CASH for Presidents - Presidential Halloween Hap. Hr.
Friday, 10/30: Show your presidential flair. Join PCW at Black Finn (our 'Toast to Fall' site) and its Happy Hour specials. Why: $500 in cash for the best-dressed "president of yore." Read on for more...
---
FELLOW ALUMS: In tough times, it's time for you TO BE PRESIDENTIAL.
Come as you aren't (in costume) or just come as you are -- for the gathering.
BUT DO JOIN our PRESIDENTIAL HALLOWEEN HAPPY HOUR. Meet our Black Finn gang (1620 "I" Street). Come for the cash, stay for the camaraderie.
We do have serious prize money. So consider a dress-up as a president of yore --whether GW, TJ, Millard Fillmore, Chester Alan Arthur (Mr. "Perky"), or Woodrow Wilson. (Just don't make it one of our current presidents.) Why do it? You can walk away with $500 in cash. Beats working late, plus, you enjoy a Halloween menu, drink specials and a lively venue for merriment. (They have great small pizzas, and we'll treat for the hors d'oeuvres!)
No campaign needed, and you automatically get your own bully pulpit. If you want instant authority (and notoriety), don't pass this up.
We were at Black Finn in force for our "Toast to Fall" (9/22) so many will join you, either as vets or newbies to the site on 10/30. DETAILS BELOW .....
~~~~~~~~~~~~~~~~~~~~~~~~~~~~~~~~~~~~~~~~~~~~~~~~~~~~~~~~~~~~~~~~~~~
Some scenes from the Presidential Halloween Happy Hour -- No takers for the presidential garb contest but they were great company nonetheless....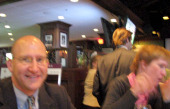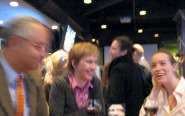 and ....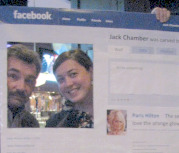 We road-tested the props for our soon-to-be announced Facebook page. Look for news on this -- and more -- in forthcoming newsletters.
~~~~~~~~~~ DETAILS for our Presidential Halloween Happy Hour ~~~~~~~~~~~~
WHAT: Presidential Halloween Night
If you're visiting, email us (pcw@pcw-dc.org) so we set aside space for you...
WHERE: Black Finn Restaurant
ADDR: 1620 "I" Street NW
Washington, DC
TIMING: We start at 5:30pm
METRO: Farragut West or North
PARKING: On street, on block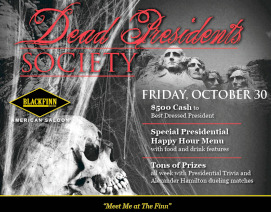 Arrive as Woodrow Wilson, bring your best ideas for these challenging times and bring a Presidential friend.
We'll see you there. Happy Halloween.