SOLD OUT - Tigers v. Hopkins - TAILGATE/LOT A+GAME
SOLD OUT: NOTHING FINER than Tigers vs. Hopkins Face-Off Classic at M&T Stadium. Join tailgaters (LOT A) from Baltimore and DC (tix, food, drinks - all for $25) and see THE GAME in March.
---
SORRY - WE ARE SOLD OUT. QUESTIONS? EMAIL: pcw@pcw-dc.org.
All UPDATED participant information appears below.
~~~~~~~~~~~~~~~~~~~~~~~~~~~~~~~~~~~~~~~~~~~~~~~~~~~~~~~~~~~~~
MAR. 6, 2010 -- Be there for a PCW and P Club of Maryland Lacrosse Tailgate Party -- a double club party for a 2-event afternoon: Tailgate - LOT A (SITE UPDATED - TIME REMAINS 11:45), then GAME (1:30). TICKETS available at the Tailgate, since you're already paying for the food with our general admission registration.
DC + Baltimore JOIN UP for this lacrosse-reconnect party. Greet alums from the region and their guests.
WHO: Princeton Clubs of Washington & Maryland

WHAT: Tailgate (LOT A - UPDATED NOW) + PU Lacrosse in Baltimore's M & T Stadium
Men's Lacrosse v. Johns Hopkins + connecting with fellow alums + guests
WHERE: Baltimore - M&T (RAVENS) Stadium.
COST: 1 TICKET, FOOD+DRINKS at TAILGATE (LOT A -- UPDATED NOW) -- all for $25.
TIMING: 11:45 am ARRIVAL for TAILGATE (LOT A); GAME at 1:30 pm.
We've got tickets (at tailgate - LOT A) + food, soft drinks; BYO for other drinks.
Contact dan.pall@gmail.com if you can offer (or need) a ride.
Please PICK UP TICKETS by 1PM at the tailgate.
QUESTIONS on TICKETS? EMAIL pcw@pcw-dc.org (same day response).
ABOUT TIGER LACROSSE and THIS 3/06 GAME:
There've been many changes in Princeton Lacrosse and you'll get to
understand -- and experience -- them thru our tailgate party.
Princeton arrives undefeated. Johns Hopkins is a perennial power.
RECENT HISTORY of the TIGER MEN's LACROSSE TEAM ...
IN JUNE, former Drexel coach Chris Bates was named head coach
of Princeton MEN'S LACROSSE June 29, replacing Hall of Fame
coach Bill Tierney, who resigned in early June to become the
head coach at the University of Denver. Bates (Dartmouth '90)
led Drexel to 31 wins plus 2 Colonial Athletic Association
championships in the last three seasons.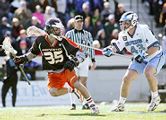 EVENT: The Konica-Minolta Face-Off Classic -- game
at 1:30 pm features Princeton versus Hopkins
WHERE: M&T Bank Stadium - Baltimore, MD
WHEN: 1:30 pm; TAILGATE IN LOT A is earlier at 11:45 AM.
NOTE: PCW & P Club of Maryland host a pre-game tailgate.
TICKETS ON HAND for BOTH CLUBS thru PCW (use "CLICK HERE" LINK BELOW).
... SORRY -- WE are SOLD OUT.