FULL - Harvard-Tiger Dinner for 8 (Arlington) - 11/14...
NOW FULL -- Harvard hosted dinner for PU+HU (Arlington). Email host directly if interested. Please check for other tables -- they ARE available.
---
WE THANK the Harvard Club for hosting us in this new Harvard-Tiger Dinner...
NEW: Princeton-Harvard DINNER on 11/14 (Arlington, VA).....
The Harvard Club invites you to share a potluck dinner for 8 with the
Princeton Club on Saturday, November 14th, at 6 pm. There will be
spots for 4 Harvard alumni/guests and 4 Princeton alumni/guests.
THIS IS A HARVARD-ALUM HOSTED DINNER....
NOTE TO TIGERS: YOU DO NOT GO THRU a LOTTERY to SIGN UP. (Harvard alums do.)
IT'S FIRST COME, FIRST SERVED ...or FIRST to SIGN UP, FIRST SERVED.
Ileana Ciobanu (government attorney), Harvard College Class of '00,
is our host (11/14) in her metro-accessible home in Arlington, VA (for
privacy reasons, you will get her address if you express your interest
and are selected by lottery, as demand for joint Ivy potluck dinners
well exceeds supply. NOW INTERESTED in attending? CONTACT
Caren Pauley at caren@harvard-dc.org by November 6, 2009. ANY
QUESTIONS? Email host Ileana Ciobanu, at imciobanu@yahoo.com.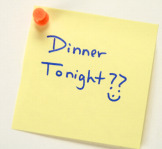 FOR COMPLETE LIST of ALL DINNER OPTIONS, GO HERE.
GUIDES: We're helping you share a meal and great conversations.
You may see a big menu, or it can be "simple." Host will tell you.
For this round of dinners, we're keeping a 50-50 twin-Ivy split at the
table. 4 Tigers+4 Columbia alums (say). OR at table for 12, it's 6+6.
1 - Host offers 1 dish; guests -- at host's request -- bring the rest.
2 - Meals range from a simple salad, wine, cheese and dessert (or
something close) to whatever your host suggests.
(Last winter, a few cooked everything, but that's a rarity.)
3 - Some have room for 12, some for 8 -- all options work well.
4 - Once the table's filled, we get the info, and post a "DINNER FULL"
sign. (If you prefer to be wait-listed, the host will help you.)
THAT'S IT. Guests may help clean up (or host chooses to do it).
CONTACT PCW at pcw@pcw-dc.org if you have questions.
Framework: Half these tables are Tigers, half from another Ivy Club