The 'multi-dimensional' Ted Leonsis offered up a remarkable talk in 2009 and joins us now on 3/17.
Ted Leonsis Returns: Book talk - 3/17 at 6:30 pm...
3 SPOTS: Ted Leonsis's 3/17 visit focuses on his new book, "The Business of Happiness." Unique in Washington, DC, he's one NOT TO MISS. Near 3rd sell out. In '09, Tigers saw a great inspirational talk.
---
TED LEONSIS IS BACK on 3/17... That's good news for his many fans.
3/14 Update: 3 SPOTS LEFT. Act quickly. Few non-member seats; member tickets on hand (NOT for long).
St. Patrick's Day treat: Join us to hear the inspirational Washington business leader, philanthropist and filmmaker, Ted Leonsis. Unique in DC: Owner of the Washington Capitals (DC's key sports franchise), Vice Chair-emeritus of AOL, an award-winning filmmaker (Peabody and Emmy Awards), now author of The Business of Happiness (2010), which he will discuss.
His Washington Capitals franchise (NHL league-leader) features Alex Ovechkin ("Ovi"), the league's celebrated MVP. Ted Leonsis rates "MVP" status in his own fields: publishing, telecom, successful entrepreneurial ventures, professional sports and now films.
Want to learn how an inspirational leader thinks? THIS is a rare opportunity to meet him and to meet many alumni. Start with this "quick take": A brief piece on him in the 2/15/10 Wash. Post -- see it by CLICKING HERE ...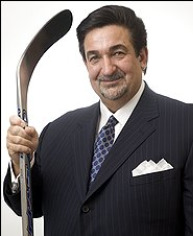 SIGN UP NOW (Ted Leonsis's talks SOLD OUT twice before).
CLICK to buy your ONLINE tickets now!
WHAT: TED LEONSIS -- Book Talk (book available on site),
The Business of Happiness.
WHEN: Wed., March 17, 6:30 pm
WHERE: HSBC's DC Headquarters
1130 Connecticut Avenue - 12th Floor.
Site is across from Mayflower Hotel ...
Washington, DC
COST: $20-Members; $25 NON-Members - cost includes food+refreshments
Young Alum PCW Members - $15
METRO: Farraguts (North and West); street parking at meters ('til 10).
Click here to buy your ONLINE tickets!
YOU MAY FAX a PAYMENT (with credit card information) ....
FOR a (Credit Card) payment, DEADLINE is EARLY -- we
EXPECT A CROWD. DEADLINE HERE: March 15, 2010.
NO guarantee of SEATS with faxed payment (may sell out).
TO FAX your Credit Card INFORMATION, USE **FORM** below.
FAX INFO to PCW at 202-249-8446 (see deadline ABOVE)...
**FORM** for ALL PRE-PAID REGISTRATIONS -- NO "hold a spot."
Click link below to OPEN, DOWNLOAD, FILL IN, THEN FAX --
http://pcw-dc.org/vault/09-10_pcw_event_registration_by_fax_v2_0.pdf
BOOKS will be available for purchase on site.
BRIEF BIO of TED LEONSIS ...
A plane crash survivor (1983), he drafted a 101-item "TO DO" list
for life. He's checked off many items ("owning a sports franchise").
He first joined us to discuss Web 2.0. Quite busy since then, he's
helped Steve Case launch Revolution Money and sold it to American
Express in 2009. And his Washington Capitals are -- far and away --
the most successful sports franchise in the capital.
Nanking, a first film (based on the book, The Rape of Nanking), won
a Peabody Award. The film Kicking It won an Emmy Award in 2009.
His family foundation is very busy supporting inner city kids.
Leonsis is engaged in film investing as a philanthropic focus -- which
he calls "filmanthropy." The key to this: "The world is more screwed
up every day and people want to call attention to issues" (as he put
it in an interview for London's Financial Times).
As Washington Capitals owner and AOL Vice Chairman Emeritus,
he joins our March 17th PCW evening to discuss his new book,
The Business of Happiness (available on site on 3/17).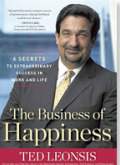 You'll learn a lot, and meet many alums.