SOLD OUT - Norm Augustine '57 on engineering, mentoring....
NOW SOLD OUT for this legendary leader & Lockheed Martin CEO (ret.) - winner of the National Medal of Technology, now leading Presidential commissions. MORE EVENTS available in NOV.
---
SOLD OUT -- for OUR SPECIAL EVENING FOR OUR AEROSPACE and ENGINEERING ALUMS....and a great opportunity for everyone to meet Norm Augustine. This is our 8th SOLD OUT EVENT since July 1st (new fiscal year), and the 22nd SOLD OUT EVENT in the past 15 months. We urge you to sign up early for PCW events.
SEE OUR OTHER November EVENTS (ranging from a terrific 11/18 conversation between Deborah Tannen & John Andrews '65 to Tiger Basketball on 11/24 & 11/28) -- and more.
If you've wanted to meet a corporate legend, here's your chance. He's a winner of the National Medal of Technology, been designated one of the "50 Greatest Americans," still serves as a chairman or key board member of corporate and non-profit boards, and continues serving as a Presidential adviser since the 1990s. A great outdoorsman, he has been in 100 countries and stood on both the North and South Poles.
Norm Augustine '57 *59 CEO (retired) of Lockheed Martin share his storied career -- in corporate ranks, and in his "encore career" on Presidential advisory boards. Most recently, he chaired the President's task force evaluating NASA -- but there's much more as you'll learn by visiting (and by glancing at his BIO below). This is a night for learning and for meeting many.
BRIEF RECAP (more in Photo Albums - https://www.pcw-dc.org/images.html?view_album=33 )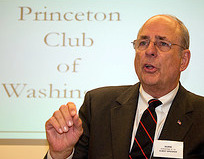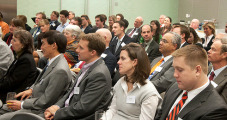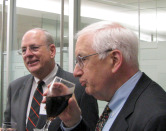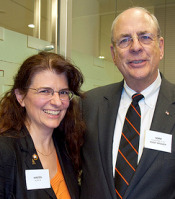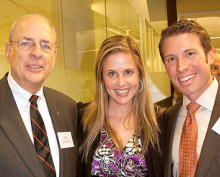 Most of our photos are by Chris Connell '71.
~~~~~~~~~~~~~ EVENT DETAILS & REGISTRATION ~~~~~~~~~~~~~~~~
WHAT: PCW's Evening with Norm Augustine '57
An extraordinary evening with Lockheed Martin's former CEO
WHEN: Monday, November 9, 2009 - 6:15 pm.
SITE: Bingham McCutchen - 2020 K Street, Washington, DC - 11th Fl.
THIS SITE is Metro-accessible (either of the Farraguts).
COST (Member Preference): $10/Member; $20/Non-Member.
COST includes fine food and refreshments.
PARKING: At lot across street on K, beside 2021 K Street (Thai Kingdom restaurant).
Parking also available on streets by 6:30 pm.
SORRY: TICKETS are NO LONGER AVAILABLE....
~~~~~~~~~~~~~~~~~~~~~~~~~~~~~~~~~~~~~~~~~~~~~~~~~~~
Here is what one observer (William Hartung) wrote (in the
World Policy Journal) about Norm Augustine ...
QUOTE:
Norman Augustine stands out as the most public figure in
an industry in which executives generally prefer to operate
outside the limelight. His name may not be a household
word, like software magnate Bill Gates's .... but Augustine
is the closest thing the gray-suited world of arms industry
executives has to a star. He has written a popular book of
management maxims, modestly titled "Augustine's Laws,"
and coauthored a military policy tract, "The Defense Revolution,"
with Kenneth Adelman, who earlier ran the Arms Control and
Disarmament Agency during the Reagan administration.
Augustine also maintains a hectic speaking schedule, and
Lockheed Martin has issued some of his favorite speeches as
glossy pamphlets that present "the world according to Norm"
on issues such as "Waging Peace," "Managing to Survive,"
and "Engineering Change." Because he has been so willing
to put forward his views on management and foreign policy
issues in so many different forums, Augustine has become
the de facto philosopher king of the U.S. aerospace industry.
[Endquote/snip]
From: "Saint Augustine's rules: Norman Augustine and the
future of the American defense industry" -- World Policy
Journal, Summer, 1996 by William D. Hartung
[See sample (below) of Augustine's Laws...]
~~~~~~~~~~~~~~~~~~~~~~~~~~~~~~~~~~~~~~~~~~~~~~~~~~
IDEAS for discussion (7 of "Augustine's Laws") .....
~~~~~~~~~~~~~~~~~~~~~~~~~~~~~~~~~~~~~~~~~~~~~~~~~~~~~~~~
Law Number I: The best way to make a silk purse from a sow's ear
is to begin with a silk sow. The same is true of money.
Law Number III: There are no lazy veteran lion hunters.
Law Number IV: If you can afford to advertise, you don't need to.
Law Number V: One-tenth of the participants produce over one-third
of the output. Increasing the number of participants merely reduces
the average output.
Law Number VII: Decreased business base increases overhead. So
does increased business base.
Law Number IX: Acronyms and abbreviations should be used to the
maximum extent possible to make trivial ideas profound...Q.E.D.
Law Number X: Bulls do not win bullfights; people do. People do not
win people fights; lawyers do.
FOR ALL 52 "LAWS," see his book (on Amazon -- GO HERE)..
~~~~~~~~~~~~~~~~~~~~~~~~~~~~~~~~~~~~~~~~~~~~~~~~~~~~~
SOME FACTS about Norm Augustine's Life
Retired Chairman and CEO, Lockheed Martin Corp.
Former member of the President's Council of Advisors on
Science and Technology under Presidents Bill Clinton and
George W. Bush
Raised in Colorado, Norman R. Augustine graduated from Princeton with
a BSE in Aeronautical Engineering, magna cum laude, and an MSE.
In 1958 he joined the Douglas Aircraft Company in California where he
worked as a Research Engineer, Program Manager and Chief Engineer.
By 1965, he was serving in the Office of the Secretary of Defense as
Assistant Director of Defense Research and Engineering. He joined LTV
Missiles and Space Company in 1970 as Vice President, Advanced Programs
and Marketing. In 1973 he returned to the government as Assistant Secretary
of the Army and became (1975) Under Secretary of the Army, and later Acting
Secretary of the Army. Joining Martin Marietta Corporation in 1977 as Vice
President of Technical Operations, he was elected as CEO in 1987 and
chairman in 1988, having previously been President and COO. He served
as president of Lockheed Martin Corporation upon the formation of that
company in 1995, and became CEO later that year. He retired as chairman
and CEO of Lockheed Martin (1997) to become a Lecturer on the Princeton
faculty through July 1999.
Augustine served on the President's Council of Advisors on Science and
Technology under Democratic and Republican presidents and led the
1990 Advisory Committee on the Future of the U.S. Space Program and
the 2005 National Academies commission that produced the landmark
report, Rising Above the Gathering Storm: Energizing and Employing
America for a Brighter Economic Future.
Mr. Augustine was Chairman and Principal Officer of the American
Red Cross for nine years, Chairman of the National Academy of
Engineering, President and Chairman of the Association of the
United States Army, Chairman of the Aerospace Industries Association,
and Chairman of the Defense Science Board. He is a former President
of the American Institute of Aeronautics and Astronautics and the
Boy Scouts of America. He is a former member of the Board of
Directors of ConocoPhillips, Black & Decker, Proctor & Gamble and
Lockheed Martin, and was a member of the Board of Trustees of
Colonial Williamsburg. He is a Regent of the University System of
Maryland, Trustee Emeritus of Johns Hopkins and a former member
of the Board of Trustees of Princeton and MIT. He is also a member
of the Advisory Board to the Department of Homeland Security,
was a member of the Hart/Rudman Commission on National Security,
and has served for 16 years on the President's Council of Advisors on
Science and Technology.
In addition, he is a member of the American Philosophical Society
and the Council on Foreign Affairs, and a Fellow of the National
Academy of Arts and Sciences and the Explorers Club.
Mr. Augustine was awarded the National Medal of Technology by
the President of the United States and received the Joint Chiefs of
Staff Distinguished Public Service Award. On 5 different occasions,
he received the Department of Defense's highest civilian decoration,
the Distinguished Service Medal. He is co-author of The Defense
Revolution and Shakespeare In Charge and author of Augustine's
Laws and Augustine's Travels. He holds 23 honorary degrees and
was selected by Who's Who in America and the Library of Congress as
one of "Fifty Great Americans" on the Who's Who's 50 anniversary.
He has traveled in over 100 countries and stood on both the North and
South Poles of the earth.