Provost Eisgruber '83+Panel: Judge Sotomayor Hearings
Hearings on Judge Sotomayor '76 started 7/13. Want experts' views of the stakes? Meet Princeton's Chris Eisgruber '83, Nick Allard '74 and Ilya Shapiro '99 fielding your questions on the issues on 7/16.
---
As the Senate concludes Judiciary Hearings on Princeton alumna and Trustee Judge Sonia Sotomayor '76, we take an in-depth look at the issues.
7/16 -- PCW's SUPREME COURT HEARINGS REVIEW -- Your questions answered on the major constitutional issues. Outstanding lawyers/commentators on hand.
~~~~~~~~~~~~~~~~~~~~~~~~~~~~~~~~~~~~~~~~~~~~~~~~~~~~~~~~~~~~~~~~~~~~~~~~~~~~~~~~~~~~~~~~~~
SCENES from this special evening -- MORE at our PHOTO ALBUMS (home page)....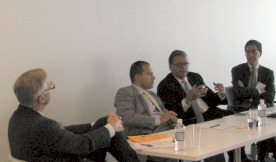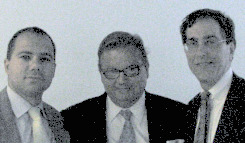 Above: Tom Lotterman '77 (Moderator) -- the 3 exceptional panelists -- and Clem Dinsmore '65 (among the crowd).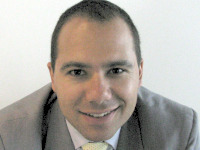 Ilya Shapiro '99 - multilingual pundit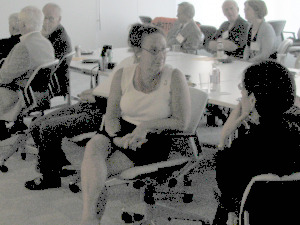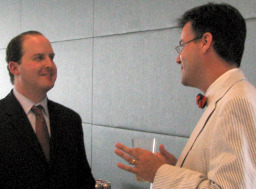 David Panzer '95, our host
~~~~~~~~~~~~~~~~~~~~~~~~~~~~~~~~~~~~~~~~~~~~~~~~~~~~~~~~~~~~~~~~~~~~~~~~~~~~~~~~~~~~~~~~~~~
PCW's Supreme Court Hearings Panel - The 3 Tenors of Policy: the distinguished trio with Princeton University Provost Christopher Eisgruber '83, Nicholas Allard '74 (Patton Boggs) and Ilya Shapiro '99 (Cato Institute).
PROVOST Christopher L. Eisgruber's BIO --
A member of Princeton's undergraduate class of 1983 and Rhodes Scholar,
Eisgruber succeeded Amy Gutmann (who became president of the University
of Pennsylvania) in 2004 as Provost of the University.
A physics major, he graduated magna cum laude and Phi Beta Kappa
and then earned an M.Litt. in politics at Oxford University and a J.D.,
cum laude, at the University of Chicago Law School, where he served as
editor-in-chief of The University of Chicago Law Review. After clerking for
Judge Patrick E. Higginbotham of the U.S. Court of Appeals for the Fifth
Circuit and then for U.S. Supreme Court Justice John Paul Stevens, he
joined the faculty of the New York University School of Law in 1990. By
2001, Eisgruber was on Princeton's faculty pursuing his scholarly interests
in the Woodrow Wilson School, the University Center for Human Values
and the Department of Politics, and directing the Program in Law and
Public Affairs. He's written 2 acclaimed books on the Supreme Court.

Provost Eisgruber is the author of 2 highly-praised books:
- Constitutional Self-Government (2007)
- The Next Justice: Repairing the Supreme Court Appointments Process (2009)
Provost Eisgruber's 7/12/09 Wash. Post Op-Ed - "The Highest, Dullest Court in the Land."
GO HERE to read this Washington Post opinion piece ...
WITH Provost Christopher Eisgruber '83 on this unique panel:

Nick Allard '74 - Partner at Patton Boggs.
After graduating Princeton, Nick Allard was a Rhodes Scholar, and
later a classmate of Judge Sotomayor at Yale Law School.
At Patton Boggs (Washington, DC), Nick Allard's many clients
include US and international organizations (many Fortune 500s),
and he also represents non-profits and universities. In addition,
Mr. Allard has major political and legislative experience. He was
Administrative Assistant and Chief of Staff to the late Sen. Daniel
Patrick Moynihan. Later, he served as Minority Staff Counsel to the
Senate Committee on the Judiciary (and legal counsel to Senator
Edward Kennedy).
Mr. Allard is a prolific author on a broad range of issues, including
articles on Internet law, new media, and privacy. He contributes to
and is on the advisory boards of a number of legal publications. He
speaks frequently at professional conferences (US and abroad) and
has served as President of the Princeton Club of Washington.

Ilya Shapiro '99 - Legal Policy Scholar
Ilya Shapiro is Senior Fellow in Constitutional Studies at Cato.
He's also Editor-in-Chief of the Cato Supreme Court Review.
Prior to joining Cato, Ilya Shapiro was Special Assistant and
Advisor to the Multi-National Force-Iraq on rule of law issues.
He's written for the LA Times, Washington Times, Weekly
Standard, Roll Call and National Review. He's a '99 alumnus
of the Woodrow Wilson School.
-- LAST REGISTRATION OPTION --
Register online quickly - here!
FAX-IN & MAIL REGISTRATION NOT AVAILABLE ANYMORE.
QUESTIONS? EMAIL pcw@pcw-dc.org for same-day response.
~~~~~~~~~~~~~~~~~~~~~~~~~~~~~~~~~~~~~~~~~~~~~~~~~~~~~~~~~~~~
OUR PANEL: 7/16 - 6:15 pm - with food/refreshments.
WHAT: Provost Chris Eisgruber leads our panel on the
Judge Sonia Sotomayor '76 Nomination Hearings
WHEN: PANEL on July 16, 2009 at 6:15 pm
WHERE: Greenberg Traurig Law Firm
ADDRESS: 2101 L St NW - 10th Floor
See Receptionist for Event Room (No. 10-9)
Washington, DC 20037-1588
TEL: 202-331-3100 for site information
COST: $10/PCW Members; $15/Non-Members
METRO: Farraguts
PARKING: On streets + in-building at 21st/L Streets
(Must enter building by 7:00pm + arrange for late exit.)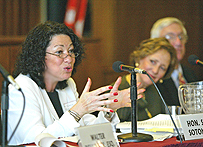 Judge Sonia Sotomayor '76 at an earlier gathering
~~~~~~~~~~~~~~~~~~~~~~~~~~~~~~~~~~~~~~~~~~~~~~~~~~~~~~~~~~~~~~~~~~~
READING MATERIALS on Judge Sotomayor ...
Interview with Provost Eisgruber (on his book): http://press.princeton.edu/titles/8464.html
Provost Eisgruber's 7/12/09 Wash. Post Op-Ed - "The Highest, Dullest Court in the Land."
PLEASE GO HERE to read his Washington Post opinion piece ...
(requires FREE registration)
ALSO: The New York Times polled seven experts on questions they'd like
to pose to Judge Sonia Sotomayor '76 (Op-Ed piece, July 13, 2009)....
Among the expert questions ....
1 - What is your view of the role of the court in ensuring the separation of powers?
2 - When, if ever, is it appropriate for an appellate judge to rely upon other,
extrinsic sources — like social science studies, polls or academic writings
— in deciding a case?
3 - Given your public remarks about the importance of judges showing compassion,
do you believe there is a difference between doing justice and applying the law?
PLEASE GO HERE for FULL NYT TEXT (requires FREE registration) ....

~~~~~~~~~~~~~~~~~~~~~~~~~~~~~~~~~~~~~~~~~~~~~~~~~~~~~~~~~~~~~~~~~~~

MORE from the www.princeton.edu story --
[quote] If confirmed, she would be the court's first Latina justice. She currently
sits on the U.S. Court of Appeals for the 2nd Circuit.
Princeton President Shirley M. Tilghman said, "We are proud and delighted
that Sonia Sotomayor has been nominated for the Supreme Court. As an
undergraduate, Sonia was an excellent student and an exemplary University
citizen, graduating summa cum laude and earning the highest award we
confer for her strength of character and leadership. Eight years ago we
presented her with an honorary degree and two years ago she became
a Princeton Trustee. She has brought to that role the same kind of insight,
discernment, wisdom and good judgment that we are confident she will
bring to the deliberations of the highest court in the land." [snip] ....
READ MORE here (from the Princeton.edu website)...
KEY NOTES (from story above) on this nomination --
If confirmed by the Senate to fill the seat held by retiring Justice David Souter,
Sotomayor would be the 11th Princetonian and first female graduate to serve
on the Supreme Court. Her appointment also would mark the first time two
Princeton alumni have served together on the court since 1860. Other Princeton
alumni who have served on the court and the dates of their service are:
• William Paterson, a member of the class of 1763, from 1793 to 1806.
• Oliver Ellsworth, the class of 1766, from 1796 to 1800 (served as chief justice).
• William Johnson Jr., a member of the class of 1790, from 1804 to 1834.
• (Henry) Brockholst Livingston, a member of the class of 1774, from 1806 to 1823.
• Smith Thompson, a member of the class of 1788, from 1823 to 1843.
• Peter Daniel, a member of the class of 1805, from 1842 to 1860.
• James Moore Wayne, a member of the class of 1808, from 1835 to 1867.
• Mahlon Pitney, a member of the class of 1879, from 1912 to 1922.
• John Marshall Harlan, a member of the class of 1920, from 1955 to 1971.
• Samuel Alito Jr., a member of the class of 1972, from 2006 to the present.
Sotomayor earned an A.B. with highest honors in history from Princeton in 1976. She
received the Pyne Prize, the highest general distinction conferred on an undergraduate,
which is awarded to a senior who has most clearly manifested excellent scholarship,
strength of character and effective leadership.
Sotomayor was presented with an honorary doctor of laws degree by the University
in 2001 for her "wisdom and judgment that cross cultural boundaries." In 2007, she
was elected to a four-year term on the Board of Trustees.
~~~~~~~~~~~~~~~~~~~~~~~~~~~~~~~~~~~~~~~~~~~~~~~~~~~~~~~~~~~~~

-- YOUR REGISTRATION OPTIONS --
Register quickly online - here!
NO MAIL or FAX REGISTRATION OPTIONS REMAIN.