Service for Gen. Guthrie '42 - Arl. Cemetery-6/30
A key moment to honor the life of Gen. John R. Guthrie '42 P84, University Trustee, long time PCW member and DC-area resident, and a man who logged 39 distinguished years in the military.
---
ANNOUNCEMENT: Memorial Service for Gen. John R. Guthrie '42
Arlington National Cemetery service - June 30, 2009 at 8:30 am.
IMPORTANT ANNOUNCEMENT to Princeton Alumni:
We at the Princeton Club wish to notify our members of the passing of
General John Reiley Guthrie '42 P84, and extend condolences to his family.
General Guthrie was a very active member of the Class of 1942 -- past
president and Class Agent He served Princeton University as a Trustee
and was also a long time member of the Princeton Club of Washington.
John Reiley Guthrie '42 (December 20, 1921 – May 25, 2009) rose to the
rank of United States Army four star general who served as Commanding
General of the US Army Development and Research Command (CG
DARCOM -- during 1977 - 1981). DARCOM was later renamed the
United States Army Materiel Command. In that role, he oversaw the
modernization of military materiel. This also included the development
of the Black Hawk helicopter and the Patriot missile.
His military service dates from 1942, when he graduated from Princeton
The range of his work and achievements is very broad: His duties also
included the role of project officer for the launch of Explorer I, which was
America's first successful satellite.
He was Princeton ROTC's first four-star general, as well as a Trustee.
General Guthrie served fhe military for 39 years with great distinction.
He passed away at Walter Reed Hospital on Memorial Day weekend,
in the presence of his family.
His wife of 58 years, Rebecca Jeffers Guthrie, died on April 11, 2005.
His memorial service at Arlington will be at 9:00 am on June 30th at the
Memorial Chapel of Arlington Cemetery. Family and friends are asked
to arrive by 8:30 am.
For more, see the Washington Post article here.
The family asks that contributions, in lieu of flowers, be made to --
- General John R. Guthrie '42 ROTC Scholarship Fund at Princeton ...
GO HERE for the ROTC site.
- John R. and Rebecca J. Guthrie Endowment Fund at St. John's Community Services.
GO HERE for the St. John's site.
~~~~~~~~~~~~~~~~~~~~~~~~~~~~~~~~~~~~~~~~~~~~~~~~~~~~~~~~~~~~~~~~
NOTES from the SERVICE (Fort Myer + Arlington Cemetery) ... more in photo albums (home page)...

Claire Guthrie Gastanaga offers a tribute to her father's life HERE...
FROM THE UNITES STATES ARMY --
June 23, 2009 - From the Chief of Staff of the United States Army,
General George Casey:
DEATH OF A RETIRED GENERAL OFFICER 17 JUN 09. "It is with
deep regret that the Secretary of the Army and I inform you of the
death of General John R. Guthrie, United States Army, Retired.
He passed away on 25 May 2009 in Washington, DC. As a mark
of respect to the memory of General John R. Guthrie, the national
flag will be flown at half-staff at all installations, activities, and vessels
of the Department of the Army in the District of Columbia as well as
throughout the United States and its territories and possessions,
from reveille to retreat on the day of interment 30 June 2009."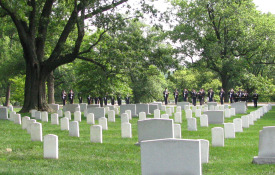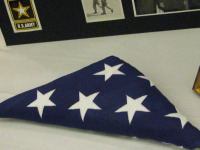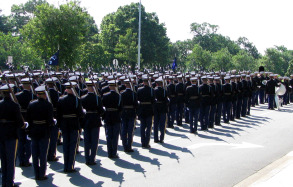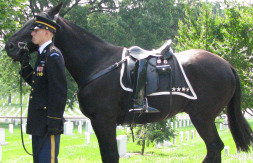 Wayne Fujito P00-Guest Speaker

Norm Weaver on pipes-honoring Gen. Guthrie's Scots heritage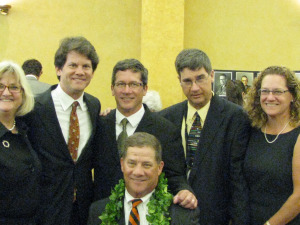 GENERAL GUTHRIE'S CHILDREN: Claire G. Gastañaga (Richmond), Michael R. Guthrie ([kneeling] Charlottesville),
Kevin M. Guthrie '84 (NYC), John J. Guthrie (Arlington), Peter B. Guthrie (Princeton), Margaret G. Ressner (Toledo, OH)