6/09: FEW SPOTS LEFT - Norwegian Embassy
FEW SPOTS: Join Tigers for a special talk by Ambassador Wegger Chr Strommen. Featured: Exceptional food+food for thought. A FEW seats remain -- great option to meet many. SIGN UP.
---

ALUMNI: We are honored to announce this unique evening in June.
Contact pcw@pcw-dc.org if you have questions.
OUR DATE: TUESDAY JUNE 9, 2009 - 6:30 pm.
As the spring begins to sizzle, we offer a cooling visit to
the Royal Norwegian Embassy in Washington, DC -- and a
special visit with Ambassador Wegger Chr Strommen.

---
BRIEF RECAP - MORE at OUR PHOTO GALLERY on HOME PAGE: A grand night undampened by the storm outside -- that was PCW's June 9th at Ambassador Wegger Strommen's Residence. We had a unique host, one who talked knowledgeably and easily both about the U.S. and about his native Norway. We learned a great deal from a lawyer-diplomat whose mission -- to advocate and represent Norway -- was impressively on display throughout the evening.... (MORE photos on home page.)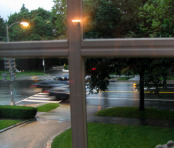 A dour start for what turned out to be a sparkling evening....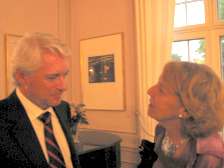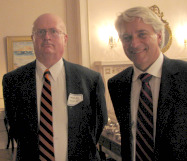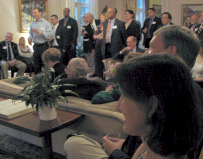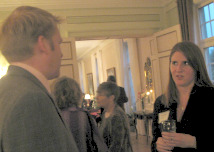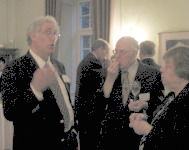 ---
FULL EVENT DETAILS - PCW at the Embassy
WHAT: Embassy of Norway - Visit with the Ambassador
Savor food for the palate and fine food for thought with His
Excellency, Ambassador Wegger Chr Strommen.
WHEN: Tuesday, June 9, 2009 - 6:30 pm
WHERE: Royal Embassy of Norway
ADDRESS:
3401 Massachusetts Avenue NW
Washington, DC 20008
(202) 333-6000
www.norway.org
PARKING: On streets.
FOR MAP of AREA, PLEASE GO HERE.
COSTS: WE OFFER special pricing for PCW Members.
$15 - PCW YOUNG ALUM MEMBERS;
$25 for REGULAR MEMBERS and....
$35 for NON-PCW MEMBERS.
Our Host: His Excellency Wegger Chr. Strommen
Ambassador Extraordinary and Plenipotentiary
Wegger Chr. Strommen has a distinguished career in the
Norwegian Foreign Service including positions as Deputy
Foreign Minister and as Norway's representative to the
United Nations Security Council. Ambassador Strommen
has also practised law as a judge and as an attorney and
has served as a Visiting Fellow, International Institute for
Strategic Studies (IISS) in London.
Ambassador Strommen will address US-Norway relations
and the countries' common interests in the Middle East.
~~~~~~~~~~~~~~~~~~~~~~~~~~~~~~~~~~~~~~~~~~~~~~~~~~~~
NORWAY in HISTORY and CURRENT NEWS ....
Norway established its first embassy in Washington, D.C.
on October 31, 1905. Strong historical ties link Norway and
the United States. Between 1825 and 1940, more than one-
third of Norway's population emigrated to America.
Allies ever since, the two nations fought together in World
War II and helped co-found both the United Nations and the
North Atlantic Treaty Organization (NATO). Today, the
Embassy in Washington is Norway's largest.and it now
includes representatives from many Norwegian ministries.
To research Norway a bit more, see PCW's "NEWS" note on...
EUROPEANA, the portal, which debuts on 11/20/09. Go here ....
ALSO: In the 5/14/09 New York Times --
"Norway's economy grew 3 percent in 2008 while many
nations plunged into a recession."
Read the story on Norway's "civics lessons" for Americans.
Go here for the story (which requires a free subscription).
PLUS: Norway's entry wins Eurovision Song Contest (5/16) ...
Norway won the Eurovision Song Contest 2009, held on 5/16
(in Moscow) with Alexander Rybak's song "Fairytale," logging
387 points, 169 points more than the 2nd place entrant, and
thereby won by the biggest landslide in contest history.
Rybak, 23, was the runaway winner from the beginning of
the voting, and was British bookies' favorite, too...
To see and hear the performance on YouTube, go here....
MORE NORDIC MUSIC: Consider Nordic Jazz 6/14/09 week.
Three Norwegian Jazz bands perform during the Nordic Jazz
Week 2009: Bjorn Solli Quartet, Nils Petter Molvær and Arve
Henriksen - in addition to excellent bands from the other Nordic
countries. Last year's concerts were sold out. Click on the link
below for more details and ticket information.
Jazz: Nordic Jazz Week 2009 - Nordic Jazz Week in D.C. features
bands from all Nordic countries, Finland, Sweden, Iceland, Denmark
and Norway, June 14-19. Tickets available now - click HERE.

~~~~~~~~~~~~~~~~~~~~~~~~~~~~~~~~~~~~~~~~~~~~~~~~~~~~
We have fine food and drinks to accompany the "great company."
Guests are welcome; seating is limited. Sign up quickly.

Click here to buy tickets (few left)!!!