SOCCER players - Alum game on alumni weekend 2/22
PCW's Saroj Siegler '03 welcomes alums to Arlington (Washington-Lee HS) Sun. 2/22--10:45 AM (sharp). Turf field, near Metro (Ballston/Orange), rain or shine. Light up your Sun. morning. Read on.
---
ALUMNI: Tired of winter blahs -- need some Sunday fun?
PCW's Saroj Siegler '03 offers you soccer on a fine turf field
this Feb. 22 weekend -- Alum Soccer on Alumni Weekend.
Some will travel to campus for Alumni Day. If you stay, come to play.
Join Saroj + a rabgy group of soccer players, BUT email her FIRST.

Join us for morming soccer + Olympian Steve Coppola '06 at 4:15 pm.
Meet/greet our Olympian & more alums - info on special reception here.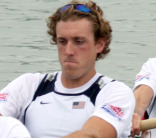 Steve Coppola '06 rowed stroke for the US 8-man bronze-winning crew.
~~~~~~~~~~~~~~~~~~~~~~~~~~~~~~~~~~~~~~~~~~~~~~~~~~~~~~~
WHAT: PCW welcomes Alumni to a great turf-field scrimmage
featuring alums of all levels - from the occasional player to the
sturdy footballer (any age).
ON TURF, we play rain, snow or shine. We guarantee sun.
WHERE: Washington-Lee High School - Arlington, VA
3 blocks from Ballston (Orange Line) Metro.
TIMING: 1 hour game - free substitution - great field.

SITE: Washington-Lee High School
1301 N Stafford St
Arlington, VA 22201
(703) 228-6200 - for reference (NOT for day of game)
WHEN: Sunday, February 22nd @10:45a.m.
THE ENTERTAINMENT: You bring it. Our game is low key
so players of all levels are welcome (not-quite-stars from rec
soccer, All Americans, and every level in between).
QUESTIONS? E-mail Saroj Siegler at sarojsiegler@gmail.com.
Questions on day of game? Call Saroj at 786-390-6225.
PLEASE EMAIL YOUR INTEREST to Saroj. Give us a sense
of the numbers to expect. We can use guests who will gladly
take the option to take your spot. We want YOU instead.
JOIN US with friends. Meet alums of all ages. - Saroj
SOME KEY GUIDELINES
Field/Equipment: The field is a turf field so we play rain or shine.
To play, you must have shinguards and will need to sign a waiver!
BRING 1 WHITE TEE SHIRT -- for a uniform.
GETTING THERE --
METRO: Orange line towards Vienna, get off at Ballston. At
Ballston, take Stafford St.and go West, for 3 blocks. The
Field is at Washington Blvd & Stafford St, corner.
ONCE THERE, use ENTRANCE on Stafford (middle of block).
CAR - From southern VA: Rt. 66E to Glebe Road exit. (Mapquest
will help.) Turn LEFT from ramp (Glebe & Fairfax), and move to
2nd light (Glebe & Wash. Blvd.). Turn RIGHT, go ~5 blocks to
light and corner of Stafford. Park anywhere you can.
CAR - From North, use Roosevelt Bridge, take Rt. 66W to Glebe
Road exit. At ramp, turn LEFT to Glebe-Wash. Blvd. light, and
turn LEFT there, too. Proceed about 5 blocks to Stafford St.
LIGHT and turn (right or left). Parking may be easier on right.
ONCE THERE, use ENTRANCE on Stafford (middle of the block).