NEW PCW Dinners: 2/27 + 3/14
Popular & NEARLY GONE: Our last 2 hosts' dinner invites for you. Dates: Feb. 27 (Fri.-FILLED) + 3/14 (Sat.). Join your alumni neighbors for pre-spring neighborly meals...
---
ANNOUNCING FINAL PAIR of DINNERS BELOW - 1 Still Open....
They're nearly filled so please sign up now.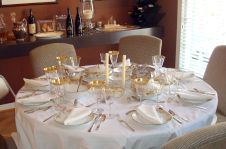 Sam Holt '58 has 2 seats (2/27) in WASHINGTON, DC.
Do join your alum neighbors either in DC or MARYLAND.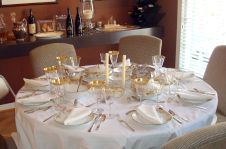 Sandy Watson '82 has 2 seats (3/14) in MARYLAND.
READY for new DINNERS with ALUMS?
TAKE TIME for these great opportunities. Bring 1 potluck item (host's choice) to the DC or MD dinner you want (check with host). SIGN-UPS are first come/first served, 8-12 members per group. Check with your host now for your spot.

OUR DINNER GROUPS are "captain's tables" for 8-12.
WHO CAN JOIN: ALL -- whether you're Class of '40, *08 or '12. Please take this unique opportunity to meet your extensive alumni neighborhood. You'll see value from being connected in a tough economy.
ORIGINAL 6 TABLES NOW FILLED, 2 FINAL ONES ADDED ...
NOTE: DATES set by hosts. Hosts choose either buffets or sit-down dinners. Email your chosen host quickly if you want any 1 of these alumni spots at that home. We're helping you connect/reconnect with your alumni neighbors.
Q: Want to host a new round in the summer? Email webmaster@pcw-dc.org.
Hosts come from the ranks of 50s, 60s, 70s, 80s, 90s, 00s classes....
MORE on YOUR INVITATIONS (7 groups filled) --
1ST NEW DC GROUP DATE - Feb. 27-FRI... NOW FILLED -- SEE 3/14 DINNER (final one)
HOME of SAM HOLT '58 - EMAIL: SCOHOLT@aol.com
Sam Holt '58
3532 Edmunds Street NW
Washington, DC 20007-1431
AND MARYLAND GROUP DATE - 3/14-SAT...OPEN, but nearly filled. If you've yet to try these, don't wait. This one will fill up.
HOME of SANDY WATSON '82
Sandy Watson '82
629 Aster Boulevard
Rockville, MD 20850
Email: sandy@sandywatsonhomes.com
LINK UP with your alumni neighbors. If you're a newcomer to membership, join the Club to meet many more. If you're ready to rejoin, please do so (see below). We need your support to keep offering attractive activities, visits and special events -- like our INAUGURAL, MUSEUM and EMBASSY visits -- throughout the year .... PCW
FOR YOUR CLUB MEMBERSHIP: https://www.pcw-dc.org/memsub.html.