Photo - Chris Connell '71
Alum Voices+Views-Inauguration Week 1/16-20
Thanks to PCW members' ideas and Chris C0nnell's exceptional photos, we have a memorable take on January's Inauguration moments. Catch voices+views below ...
---
ALUM VOICES & VIEWS: INAUGURATION WEEK
OUR PRINCETON-HARVARD INAUGURAL -- Jan. 16th




Scenes from the stellar evening, including speaker Charles Ogletree
CLICK HERE for MORE at our Inaugural RECAP PAGE....
~~~~~~~~~~~~~~~~~~~~~~~~~~~~~~~~~~~~~~~~~~~~~~~~~~~~~~~~
MLK DAY - THE NATIONAL DAY of SERVICE -- JAN. 19
1/19/09 -- PCW at Miriam's Kitchen: 15 Alumni took part in a major effort to
spruce up and "tune up" the Kitchen....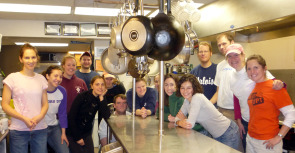 Miriam's Team Captain Joe Kochan '02 --
It's such a comforting feeling to look around and see people making an honest
effort at creating and sustaining their communities. It's refreshing to have our
national leaders putting such a strong focus on service and sacrifice, setting a
great example for the country.
Click here for more on the National Day of Service Participants ....
~~~~~~~~~~~~~~~~~~~~~~~~~~~~~~~~~~~~~~~~~~~~~~~~~~~~~~~~~~~~~~
INAUGURATION EVE & INAUGURATION DAY -- REVIEW of SIGHTS and EXPERIENCES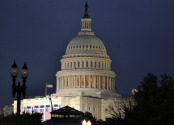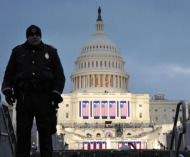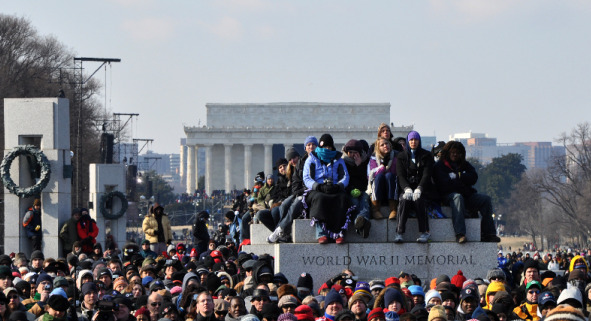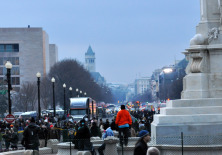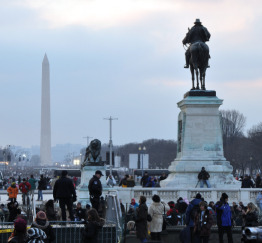 Center picture & below: President's view of crowd. These photos courtesy of PCW member Chris Connell '71. **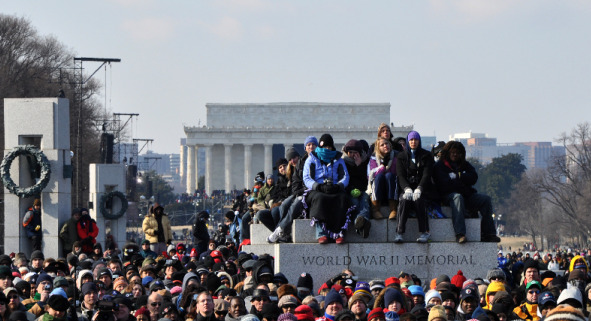 SOME REFLECTIONS on THE DAY and THE "PEOPLE-SCAPES" ...
-- On my way to volunteer duties with the Presidential Inaugural Committee,
I arrived at the Metro by 4 a.m. on Inauguration Day. At that hour, I expected
an empty station at Dunn Loring (VA). Inastead, a pre-inaugural and festive
atmosphere was already in full swing. People crowded the platform, clapping
and cheering when the first Metro train arrived. Cars were packed full of riders,
smiling to themselves, talking excitedly, taking pictures, as we all rode into DC
to join 1.8 million others on the Mall and witness history together.

GREG CULLISON *99
*******************************************************

-- I can gladly report that my 8-year old son and I braved the cold and five hours
of lines to witness Barack's inauguration. I have never witnessed so many people
so full of hope and optimism. We cried, we laughed and most importantly spoke
about the future. For me, it was a special time, because my son's American
experience will be closer to that ideal. His favorite part of the day was waving
his flag, followed by the friendly reception we received at the American Legion
where we got to see the start of the Inaugural Parade.
LADONNA GOODEN '90 - KC, Missouri - joined us in Washington for PCW's
Princeton-Harvard Inaugural (Jan. 16) and the Inauguration.
******************************************************************************
-- I was privileged to hear President Obama at PCW's Princeton Prize in Race
Relations ceremony shortly after he entered the Senate. It was after that event
that prescience led me to believe that I would indeed see him become President
one day, an idea I often repeated to others. Little did I know that January 20th
2009 would be that day.
I was a Politics and African American Studies at Princeton. Thru course work
and research, I gained a fuller appreciation for the harried history of suffrage for
many groups in America, particularly African Americans. So it has been a
challenge to put this election in perspective without reflecting on many preludes
in our nation's history, where the notion that an African American representing
the vestiges of many of our most storied eras (slavery, Civil War, Emancipation,
Reconstruction, Jim Crow and what we "frame" as the Civil Rights Movement)
could be President. And that his wife, a Princetonian, would be First Lady.
The events of this past week were tantamount to nothing I've ever witnessed.
This election reached so many milestones that impacted me on many levels.
To see so many people engaged in politics, interested in the election, plus
registering to vote, learning about candidates and the political process,.and to
see campaign contributions topping all expectations was utterly amazing.
For the first time in my life, I stood in long lines at the polls as my neighbors
voted, some for the very first time. This election laid to rest any doubt that
our country was heading in a different direction. Standing with millions on
the mall, witnessing the swearing-in ceremony was overwhelming. I was
proud, I was inspired and I felt so privileged. As images of the crowds were
broadcast and the true magnitude of the moment became more evident, I
felt the true spirit of America beaming as bright as the sunshine overhead.
JACKIE BRUCE '99
******************************************************************************
- How the Moment Warms When the Sun Doesn't
My wife and I rose at 5:30am on Tuesday, January 20, 2009, after only a few
hours of sleep from the previous night's revelry. Frozen grounds of the
Washington Monument, then the Mall (as we wanted to get closer, naively)
beckoned—and this was after a long, dark, cold, walk from the Gallery Place
Red Line station. Wide eyed at the crowds. Less the event, the history,
than the multitudes at the hour.
Standing there looking at the Jumbotron across from The Smithsonian Museum
of America History, trying not to stare too much at the people around you and
how they're coping with the cold…well, you start to really consider escaping.
Yes, calling it quits. Claustrophia/crowds, numb toes, no feeling in your cheeks.
Re-runs of Jamie Foxx and Bruce Springsteen on the huge screen. Sacrilege.
We actually discussed it. We had friends waiting for us at the Willard Hotel.
Our camera battery had died and we didn't know it till we got off the Metro.
The meager sun wasn't helping. We planned our mistake around 10am, after
standing in one spot for two hours.
Then the re-runs ceased. We heard the announcer. We hear and see the
President's own U.S. Marine Corps Band, playing jubilant marches of their
patron saint, Mr. Sousa. We see Craig Robinson '83 and that orange and
black scarf. John Rodgers '80 and that little Princeton pin in his lapel.
Sasha and Malia, so cute. George H.W. Bush and Barbara looking
somewhat relieved that their son's a private citizen. Then Michelle. And
Barack. A million and a half voices roar. The oath. The speech. Suddenly
we could feel our toes. Our faces could move, no longer rubbery. Fingers
could clap. And yet we hadn't really moved, didn't stomp or run in place
any more than we had to. No $5 hand or foot-warmer packs had been
scrounged. Hmmm…
CHRISTOPHER CHAMBERS '82
- The whole Inauguration weekend--a string of festivities reminiscent of
houseparties, in some ways--was made even more special by my two
Princeton senior year roommates visiting from NYC. Tuesday was
overwhelming, in all senses. And I loved the Sunday concert, too. But my
favorite day was the one between the two headline events. It was so
heartening that MLK Jr. Day this year, historically a "day off", turned into a
"day on" of service. With Obama leading by example, the country
mobilized in a way I had never seen before. I'll always remember our PCW
afternoon at Miriam's Kitchen, surrounded by people who were walking the
talk-- modest individual sacrifice for collective gain. I am optimistic that
this spirit of service, to country and one another, will be President
Obama's greatest legacy.
CAITLIN SULLIVAN '07

*************************************************************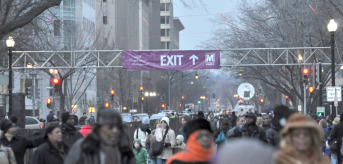 ** Photos generously provided by PCW member CHRIS CONNELL '71 ....
His Inauguration Day essay is at the literary blog below --
www.wildriverreview.com/young

CHRIS CONNELL '71 served in AP's Washington Bureau.
For more of Chris's photos, click here or here ...