FILLED - PCW Dinner (1/31) in Maryland...
FILLED - Maryland Group (1/31) - Reconnect with alumni neighbors in Maryland. This dinner is at the home of Sue-Jean Suettinger '70, North Potomac, Maryland. Read on...
---
YOUR HOST in MARYLAND for the EVENING of JAN. 31, 2009:
Sue-Jean Suettinger '70 in North Potomac, MD
THIS DINNER GROUP is NOW FILLED.
At our 12/15 Triangle Show, Sue-Jean was recognized as the first female Triangle performer....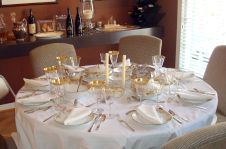 Sue-Jean has FILLED HER SEATS.
Nominal time: 5 pm (host's preference - check with Sue-Jean directly)
Contact your host directly -- details below.
DC-AREA ALUMNI: YOUR OPPORTUNITY to sign up + bring
1 potluck item to this Maryland dinner, depending on convenience
to you. SIGN-UPS are first come, first served, with a set number
of attendees per group. Check with your host.
WHO CAN JOIN: ALL -- young & not-so-young, undergrad/grad alums
and students on break, too. You may be Class of '40, or Class of '08,
or '12. Share a conversation over an extended meal.
NOTE: DATES set by HOSTS. Individual hosts may offer buffets or
sit-down dinners. Email your chosen host quickly if you want any
one of 7 alumni spots at that home. We're helping you reconnect
with your alumni neighbors.
MD DINNER GROUP DATE: JAN. 31st, SAT. - 5 pm (nominal time)
Home of Sue-Jean Suettinger '70 -- EMAIL: leesj@aol.com
Please email Sue-Jean directly to join this group.
Sue-Jean Suettinger '70
14504 Pebble Hill Lane
North Potomac, MD 20878-2473
Phone: (301) 340-1338
FOR the BIG PICTURE, PLEASE CLICK HERE ....
Questions or ideas (want to host)? Contact webmaster@pcw-dc.org
LOOK FOR MORE "RECHARGING EVENINGS" in JANUARY and FEBRUARY ...