FILLED - PCW DC-Dinners - 2/07 Dinner ...
FILLED - MORE on HAND ... meet with alumni neighbors at this small group dinner. February 7th's host: Melissa Hardin '91 (in DC). Read on...
---
YOUR HOST in WASHINGTON, DC for the EVENING of FEB. 7th:
Melissa Hardin '91
THIS DINNER GROUP is NOW FILLED.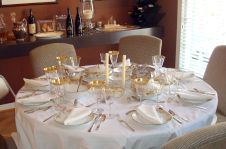 Melissa has FILLED these seats.
Nominal time: 5 pm (host's preference - may change)
CONTACT Melissa directly about timing -- details below.
DC-AREA ALUMNI: YOUR OPPORTUNITY to sign up + bring 1 potluck
item to this Washington, DC dinner, depending on its convenience
to you. SIGN-UPS are first come, first served, with a set number
of attendees per group. Check with your host.
YOUR ROLE: Bring 1 potluck item (host's choice) + your self.
Consider it a "captain's table" for local alums.
WHO CAN JOIN: ALL, young & not-so-young, undergrad/grad alums
and students on break, too. You may be Class of '40 or Class of '08
(or even '12). Take this option to meet an older or younger alum.
Take time off and share a conversation over a meal.
NOTE: DATES set by HOST. Individual hosts may offer buffets or
sit-down dinners. Email your chosen host quickly if you want any
one of 7 alumni spots at that home. We're helping you reconnect
with your alumni neighbors.
DC DINNER GROUPS - DATE: FEB. 7/SAT.
Home of Melissa Hardin '91 - EMAIL: mhardin@mitre.org
PLEASE EMAIL Melissa directly to join this evening's group.
Melissa Hardin '91
3601 Conn. Ave. NW
Washington, DC 20008
FOR COMPLETE "DINNERS" PICTURE, CLICK HERE ....
Questions or ideas? Contact webmaster@pcw-dc.org