ICEBREAKER PARTY for ALUMNI, including newly-arrived and "veteran" alums in the DC area plus guests. We're filling up. Don't miss out on the fun.
PLEASE SIGN UP IN ADVANCE BELOW (at "CLICK for TICKETS" page bottom) so we gauge food+refreshment needs... The $5 charge helps our scholarships for DC-area residents.
This high-quality, low-cost event is geared for this economy, which puts a premium on relationships. We're offering you an easy way to build your relationships, and reconnect with alumni. Join us.
OUR SPECIAL GUEST: (Terrapin) Prof. Ron Walters, who's taught at Princeton and leads the African-American Leadership Academy at the University of Maryland. He's known world-wide for his work, his writing and his expertise on African-American leadership. As one of the unusual academics who's worked in live political campaigns, he brings much to this event -- besides his savvy on political issues.
---
RECAP: You missed a good one if you missed this! Our "Icebreaker" turned out to be an ice-melter -- 60 degree weather, a great time to gather. Some highlights from the party ....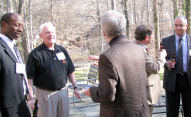 Action outside: McBarnett '80, Shinkman P94, Carhart '73, Steigman '75 .... and ...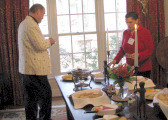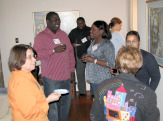 Action inside: Our hosts, Bruce and Linda, welcoming guests...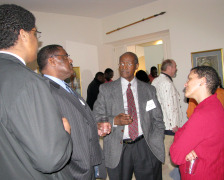 Some talk before the talk by Ron Walters, here flanked by Richard Pyle *74, son Michael on left, and Malaika Walton '87 on the right.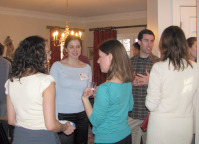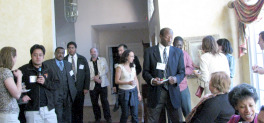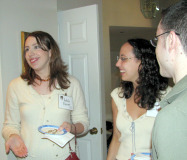 Conversations & cameos.
---
WHAT: OUR WINTER ICEBREAKER-TIGERFEST
FEATURES: TOP-NOTCH SPEAKER, TIME to RECONNECT
JOIN US on February 8th.
WHERE: Home of Bruce Malashevich '74
ADDRESS: Bruce Malashevich '74 HOME 8711 Burning Tree Road
Bethesda, MD 20817-3054 - PARKING on STREET (not in driveway)
Check Mapquest for directions
COST: $5 for MEMBERS and $5 for NON-MEMBERS - supports our scholarships.
CLICK BELOW (page bottom) to REGISTER....
---
OUR DISTINGUISHED GUEST: Dr. Ronald Walters,
Professor-University of Maryland
- Dr. Ronald Walters is internationally known for his expertise on the issues
of African American leadership and politics, his writing and his media savvy.
Walters carries three major titles. He is director of the African American
Leadership Institute and Scholar Practitioner Program, Distinguished Leadership
Scholar at the James MacGregor Burns Academy of Leadership, and professor
in government and politics at the University of Maryland.
He's served as Visiting Professor at Princeton, chaired the political science
department at Howard University, taught at Brandeis and Syracuse campuses.
More recently, he was a Fellow of the Institute of Politics at the Kennedy School
of Government at Harvard.
In 1984, Walters served as deputy campaign manager for the Jesse Jackson
presidential campaign. He also has authored over 100 articles and 10 books.
One of these, Black Presidential Politics in America (1989), won the Ralph
Bunche Prize of the American Political Science Association.