SOLD OUT NET NIGHT: Online/in-person networks for a tough economy-1/08
SOLD OUT - Network-immersion Net Night helps you build up your social assets, online/in person. Penn/Ivies join us. FOCUS: Deep dive into LinkedIn (etc.) + superb networking.
---
FELLOW ALUMS: SORRY BUT WE ARE SOLD OUT. Please look for our events coming up in February.
ALUMNI: After a tough year, are you happy with your network? Can you tap a range of people whenever you face an issue, need a contact, have a work question? Is your contact database -- your "social assets" -- as rich and deep as you need it to be?
On Jan. 8, do a "deep dive" into turbocharging your network. It's our annual "recharging" night -- stop by to learn, stay to meet dozens of future colleagues. You'll find not only alums to help you; you'll also learn new resources for growing your network online in '09. NOTE: We'll cap sign-ups at 60 to optimize the (guided networking) exercises at the end of our session.
2009 FEATURE: Building Social Assets -- online (LinkedIn & more) and in-person, with hardy PCW guided networking. FOCUS: Keys to tapping the NET + new/veteran Net Nighters to help you steer successfully thru '09.
**********************************************************************************************************
RECAP IN PICTURES (great photos by participant David Kim '00) ....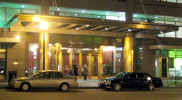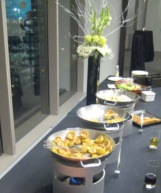 The site, views and attractions (Penn, Brown, Yale, Harvard and "double-school" alums joined Tigers on hand).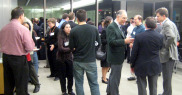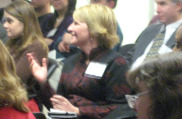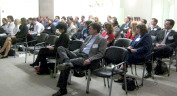 Early bird arrivals, talk and Q & A...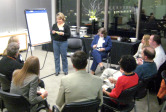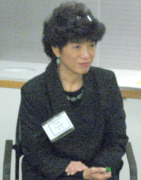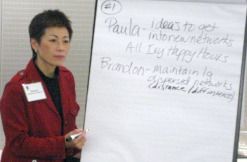 To tackle individual issues, we used our "4-corner offense," and had superb breakout leaders-at-the-corners to help. In order, L to R, they were: Christie Susko '91, Tina Sung '71, Kimberly Ho Schoelen '81 and Jon Teitel (Penn Club VP)....
Given the group's strong interest, we're now building on these interlinked connections. This will include in-person and online contacts, thru queries and postings on LinkedIn, Twitter and other online network platforms...
This "yo-yo economy" puts a premium on relationships, so join us to bolster your professional network.
NOTE: WE'LL ANNOUNCE NEW NET NIGHTS SHORTLY. SIGN UP EARLY for these productive gatherings with fresh and veteran faces, expert talks AND guided networking -- giving you a leg up in these tough times.
***************************************************************************************************************************
WHAT YOU WILL LEARN --
1 - Do you know the 3 keys to career derailment in this kind
of economy? You'll hear the answers....
2 - How do you develop an ACTION PLAN for success in
this tough new year? Do you have a success plan now?
3 - What's the best way to leverage the value of personal
networking coupled with online "nets" -- to get traction
with your career in 2009? That's our big topic...
JOIN US to get answers -- and the best DC-area networking featuring an eclectic, high-level mix of alumni of all ages and generations (from many Ivy Clubs).
WHY DO IT? Are you puzzled by the hype about LinkedIn (and its "brethren")? Too static for you? Come learn how it can help, and dovetail it with your personal networking. A fun night of light learning + guides for connecting. We sold out our '08 edition. GET TICKETS before now, before they're gone ....
WHAT: Building a Network -- your "social assets" - for 2009. REGISTER BELOW
As always at Net Nights, you'll meet everyone in the room.

WHERE: Bingham McCutchen (law firm) -- a wonderful venue
SITE: 2020 K Street/11th FLOOR - Washington, DC 20006
TIMING: Launch at 6:30 pm - FINE BUFFET on hand.
COST: $15 PCW/Non-PCW Members; $15 Penn/Ivy Guests, a great deal
for ALL (whether you're a member, non-PU alum or walk-in)
METRO: The Farraguts - BEST BET
PARKING (?) - see "Note" below: On street and in (paid) lots.
Given the pre-Inaugural traffic restrictions, USE Metro.
TICKETS ... Click here to buy tickets online!!!
OR: To MAIL/FAX your REGISTRATION, just click the downloadable
form below to mail a payment. FINAL MAIL-IN deadline for admission
is NOON-1/06/09 -- PRE-PAID with $15 payment.
USE FORM BELOW for MAIL-INs only....
https://www.pcw-dc.org/vault/EVENT_REGISTRATION_ByFax_5.pdf
FIRST COME, FIRST SERVED; SELL OUT LIKELY.
WE CANNOT GUARANTEE SPOTS FOR YOU after 1/05.