Princeton-Rutgers Broomball - 11/14 (after Caps game)...
Pick your jersey for a rematch of last year's "Route 1 Grudge Match" -- Tigers vs. Rutgers alums -- on Verizon Center ice -- after the Caps v. Devils game. Come to cheer or play. Call Dan Pall '08.
---
BROOMBALL THRILLS-VERIZON CENTER - Fri., Nov. 14, 2008.
Princeton vs. Rutgers - Rematch of Last Year's Titanic Struggle....
Our gallant gladiators/gladiatrices take the ice after the Devils-Caps game.
---
RECAP: They came, saw, (played and) conquered. The rematch produced a Tiger result.
Here are the gladiators on ice (from both squads). Thanks to Dan Pall '08 for steering the event to its satisfying conclusion .....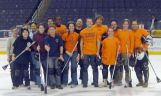 NOTE, PLEASE: We're recruiting new All-Stars to fill the shoes of these might titans. Will you join us in 2009?
CONTACT DAN PALL, our Official Perennial Captain: E: dan.pall@gmail.com
---
Your Captain: Dan Pall '08 - E: dan.pall@gmail.com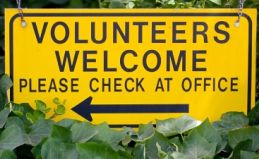 WE HAVE MEN and WOMEN who've Volunteered and Will Play
10 mighty players for the Princeton squad. Sign up quickly by emailing Dan
Pall at dan.pall@gmail.com! Verizon Center provides helmets, knee pads and
all brooms. All you need is some decent sneakers/boots, a sweatshirt, some
sweat/warm-up pants, and a healthy dose of athletic enthusiasm!
YOUR CHOICE: Come to play, or come to cheer. Or do both.
TICKET OPTIONS
Ticket ordering (for Capitals game) is online. Even if you don't want to play
broomball after the hockey game, you can still order a ticket (at a special
discounted rate!) and sit with the Princeton folks. Have a grand old time
watching the hockey and the slash-&-dash broomball slugfest. Feel free to
bring friends, family, and members of your personal fan club, Each one gets
same access to the discounted tickets! GET your discount TIX here.
DISCOUNT PRICES: $70/LOWER level (orig. $80); $25/MEZZANINE (orig. $35)

MEETING TIME FOR BROOMBALL: If you're playing broomball, meet the
Verizon Center coordinator (and the Tiger team) at section 119 on the
CONCOURSE with 3 minutes left in the 3rd period of the Washington Caps
game that evening. NOT PLAYING but want to cheer us on and get a better
look at the action? You can move down to the lower levels near the ice after
the Caps game ends. Cameras are a good idea, to catch the heroes and
the rest of the crew.
SIMPLE RULES: The coordinator reviews them before teams take the ice.
NUTSHELL: It's like playing field or regular hockey on ice, but you don't use
skates. YOU DO USE a softball-sized soccer ball instead of a puck Check
out http://en.wikipedia.org/wiki/Broomball for information on the game.
CONTACT Dan Pall to volunteer, play broomball or work as a medic on the
frozen battlefield during the non-stop thrills, spills and chills.