LOGO Contest WINNER SELECTED -- 9/28
PCW has its LOGO CONTEST WINNER. SUBMISSION DEADLINE was 9/17 - open to current PCW Members. Our 9/28 Party participants made a wise choice. See contest-winning entry below ....
---
ALUMNI: PCW's LOGO CONTEST -- HAS A WINNER!
CONTEST IS CLOSED.
CONGRATULATIONS Andy Newens '95.
Here is the winning entry (picked by alumni at our 9/28 PARTY):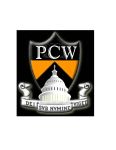 ~~~~~~~~~~~~~~~~~~~~~~~~~~~~~~~~~~~~~~~~~~~~~~~~~~~~~~~~~~~~
RULES for ENTERING & WINNING (for the record)
"You miss 100% of the shots you never take." -- Wayne Gretzky
EXTENDED DEADLINE: Wed., September 17, 2008 (11:59 pm EST).
SEND us your best entry by email to webmaster@pcw-dc.org.
1 - ELIGIBILITY: OPEN to CURRENT PCW Members.
Check membership as you sign on to our website. "Current" = Good thru 6/30/09.
2 - Use any (publicly available) Princeton logos & insignia in combination with
your very own stunning design ideas. (One entry per contestant.)
3 - Submit your "web-ready" design idea by Wed. 9/17 (11:59 EST timestamp) by
email: webmaster@pcw-dc.org. "Web-ready" = JPEG preferred (PDF is 2nd choice).
4 - PCW LOGO contest judges will pick (or short list) the "TOP 3 Designs."
5 - All decisions on "TOP 3 Designs" are final. No appeals to the Supreme Court.
6 - PCW members then vote to select the PCW LOGO Winner & 2nd Place Winner.
Simple plurality of votes will determine 1st and 2nd Place winners.
7 - Collect your 1st Place or 2nd Place Prizes at a special, end of September
PCW alumni gathering. PCW will announce 2 prizes and 3 awards for logos.
YOUNG ALUMNI: You have everything to gain. (Membership, after all, costs you $0.)
PCW Council Members and contest judges are ineligible for contest prizes or awards.
PRIZES & AWARDS:
-- 1st Place Winner: Earns a $100 Gift Certificate usable at a major DC area restaurant.
-- 2nd Place Winner: Earns $75 Gift Certificate usable at a major DC area restaurant.
-- As 1 of 3 Honorable Mention Awardees, you'll be highlighted on our website,
and earn 2 Free Tickets to a PCW event of your choice.
Other Questions? Email webmaster@pcw-dc.org for a quick response.
What ARE you waiting for? Attack that keyboard. We've got prizes with your names on them...