Tiger Women's Soccer v. American - 10/07 -- 3 pm
One more cheering squad needed. The 2007 women's winning team had "highlight video" senior Diana Matheson, who later powered Canada to the Olympics. This team (with strong frosh recruits) battles one of DC's top squads.
---
RECOMMENDATION for a trip worth making. Come watch the Tigers take on one of the top squads in the East. And the Tigers have loaded up with new talent.
Last year's star Diana Matheson shared the C. Otto von Kienbusch Award as the top female athlete on campus.
This year, Coach Shackford's squad plays again at American, on Tuesday, October 7th.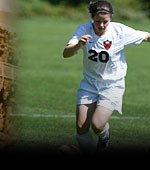 WHAT: Princeton (W) vs. American (W) at the AU campus (D.C.) -- 3 p.m.
WHERE: American University Campus - Reeves Field.
WHEN: 3 pm (90 min. game)
COME SEE COLLEGIATE SOCCER at its best.