Join an All-Ivy Conversation with (Ret.) General David Petraeus *87 and a Benefit for Ukraine.
If you're overwhelmed by the news and puzzled about how to help the country, you'll have answers on July 12. You'll join a conversation with a peerless military strategist and can engage with Razom (NGO) now working in Ukraine.
---
As you read this, Ukraine is a giant battle zone -- driving media attention as we watch daily videos of atrocities.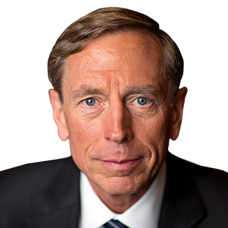 This pain-filled picture we address in our CONVERSATION with Keynote Speaker (Ret.) General David H. Petraeus *87. A 37-year U.S. Army officer and veteran, he led the Surge in Iraq and the US/Coalition forces in Afghanistan, serving next as the Director of the CIA. Earlier, he graduated with distinction from the U.S. Military Academy at West Point, and also earned his Ph.D. from Princeton University. He'll assess the current state and the key steps to a future strategy in Ukraine. (His general staff peers have called him the "best soldier of his generation.") He now serves as a Partner with the global investment firm KKR and is Chairman of the KKR Global Institute. It's a conversation not to miss. (See more of his BIO below.)
SPECIAL NOTE: All Ivy Clubs offer our deep gratitude to the Morgan Lewis law firm, our generous host and partner in supporting this special benefit for Ukraine. Our multi-club evening is co-sponsored by the DC-area alumni clubs of Brown, Dartmouth, Princeton, and Yale.
DO STAY to lend your volunteer hands to staffers from Razom on site (after Keynote portion), at our community service segment. Razom is a Ukrainian-American non-profit providing critical humanitarian war relief to address the most urgent needs in Ukraine since 2014. Razom ("together" in Ukrainian) has shipped 200+ tons of tactical medicine, hospital supplies plus communication devices into Ukraine. These are delivered by volunteers and partners in Ukrainian regions needing these the most. (More at razomforukraine.org)
REGISTRATION - PLEASE NOTE that we NEED YOUR CLUB AFFILIATION when registering
WHEN: 7/12/2022, 6pm-8:30pm - with light food, refreshments
WHERE: Morgan Lewis Law Firm 1111 Pennsylvania Ave., Washington DC
SPACE is LIMITED -- REGISTER QUICKLY

REGISTRATION HAS SOLD OUT for Princeton Registrants and Guests
After a 4-day run on tickets, ALL TICKETS ARE GONE.
3 DONATION LEVELS: $20/new grads; $30/other alums+guests; $50/premium donation. You must pre-register – NO WALK-INS. We will sell this out early.
TO HELP US, SHARE YOUR CLUB AFFILIATION. At checkout ("SECURE CHECKOUT" page), USE "Special Instructions" FIELD. Considering giving more? During checkout, you can use "MAKE a GIFT" at page-bottom of that page AFTER picking a ticket/donation option and moving to finish payment.
FYI - CLICKABLE EVENT URL: https://www.pcw-dc.org/store.html?event_id=2542
3 DONATION LEVELS: $20/new grads; $30/other alums/guests; $50/premium donation. You must pre-register – NO WALK-INS. This will sell out early.
PROOF of VACCINATION REQUIRED AND is CHECKED by the firm's security. Show vaccination card at Guard Desk.
All donations/tickets for entry support Razom's work to help heal Ukraine's wounded. (See more on Razom at razomforukraine.org ...)

BRIEF BIO: GENERAL DAVID H. PETRAEUS
General David Petraeus *87, US Army (Ret.), is a Partner with the global investment firm KKR and the Chairman of the KKR Global Institute, which he established in June 2013. He is also a personal venture capitalist and serves on the boards of KKR companies OneStream and Optiv. Before joining KKR, he served in government for 38-1/2 years, culminating his 37-year military career with six consecutive commands as a general officer, five of which were in combat – including the Surge in Iraq, US Central Command, and US/Coalition Forces in Afghanistan – and then serving as Director of the CIA, following Senate confirmation by a vote of 94-0. He graduated with distinction from the US Military Academy in 1974 and later earned a Ph.D. at Princeton University. He has held academic appointments at USMA, the City University of New York's Macaulay Honors College, Harvard's Belfer Center, and the University of Southern California. He is currently a Senior Fellow and Lecturer at Yale's Jackson Institute for Global Affairs, Co-Chairman of the Woodrow Wilson Center's Global Advisory Council, Senior Vice President of the Royal United Services Institute, and a member of the Trilateral Commission, Council on Foreign Relations, and Aspen Strategy Group. His many awards include four Defense Distinguished Service Medals, the Secretary of State's Distinguished Service Award, the Bronze Star Medal for Valor, two NATO Meritorious Service Medals, the Combat Action Badge, the Ranger tab, and master parachutist wings. He has also been decorated by 13 foreign countries and is believed to be the only person who, while in uniform, threw out the first pitch of a World Series game and did the coin toss for a Super Bowl. He was also runner-up for Time Person of the Year in 2007, when Russia's President Vladimir Putin garnered that honor.
REMINDER: PROOF of VACCINATION REQUIRED AND is CHECKED by the firm's security for our event as you enter. Please join our Keynote Speaker General David Petraeus, Ivy colleagues, guests and Razom staff -- REGISTER NOW (we expect a sold-out event) for this outstanding All-Ivy-Morgan Lewis event.