EVENT SOLD OUT: Book Talk with Carlos Lozada *97, Pulitzer Prize Winner
EVENT SOLD OUT -- Join PCW and Columbia Club for an engaging discussion on the intellectual history of the Trump era with Pulitzer Prize winner Carlos Lozada *97 on Oct. 15 at 6:30 pm. Do join us with your questions.
---
PLEASE NOTE: EVENT SIGN-UP NOW CLOSED -- WE ARE AT CAPACITY. PLEASE CONSIDER JOINING ONE OF OUR OTHER PCW EVENTS.
ALUMNI and GUESTS: JOIN FELLOW PRINCETONIANS (on Zoom) for an evening discussion on Thursday, October 15 (at 6:30 PM) with Carlos Lozada *97, 2019 Pulitzer-Prize Winner in Criticism.
Here is your opportunity to clarify your thinking about the politics and debates of the past 4 years. The discussion will center on Lozada's new book, What Were We Thinking, which is due to be released on October 6, 2020.
***This is a joint event with the Columbia Club of DC.***
Carlos Lozada *97 is the nonfiction book critic at the Washington Post and winner of the 2019 Pulitzer Prize for Criticism. Previously, he was the Post's Economics editor, National Security editor, and Sunday Outlook editor. Before joining the Post in 2005, he was Managing Editor of Foreign Policy magazine and a Knight-Bagehot Fellow in economics and business journalism at Columbia University. Lozada earned a BA in economics and political science from the University of Notre Dame in 1993 and an MPA from Princeton's Woodrow Wilson School (now SPIA) in 1997. For the past decade he has been teaching political journalism for the University of Notre Dame's Washington Program.
This event features Carlos Lozada's new book, What Were We Thinking, which illuminates his reflections on the many books published about the Trump era in the past four years. The book was released on October 6, 2020 by Simon & Schuster.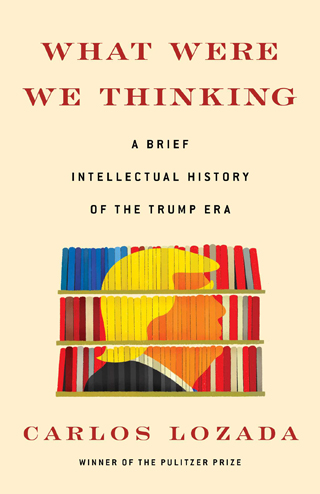 As the Post's book critic, Carlos Lozada has read over 150 volumes -- for reviews, he reads each one twice -- to focus on why Trump was elected and what his presidency reveals about our nation. Many of these books, he's found, are more defensive than incisive, more righteous than right. In What Were We Thinking Lozada draws on his extensive reading to shed light on how we understand ourselves in the Trump era by examining the political ideas and debates at play in America today. He dissects works on the white working class like Hillbilly Elegy; manifestos from the anti-Trump resistance such as On Tyranny and No Is Not Enough; books on race, gender, and identity like How to Be an Antiracist and Good and Mad, polemics on the future of the conservative movement, such as The Corrosion of Conservatism; and many volumes on Trump himself.
Lozada offers a provocative argument for readers of What Were We Thinking: Many of these books -- written by liberals or conservatives, activists or academics, Trump's true believers and harsh critics -- are vulnerable to the same blind spots and resentments that gave us his presidency. Lozada also highlights the books that succeed in illuminating how America is changing in the 21st century. In turn, his book is a short intellectual history of the Trump era in real time, revealing how we can transcend the battles of the moment and discover who we really are.
***
Date: Thursday, October 15th (at 6:30 PM EST)
Location: Zoom (to be emailed to all registrants)
RSVP: This event is free. Click here to register.
The book is available for purchase at Barnes & Noble here and on Amazon here.
If you any questions about this event, please contact PCW Speaker Series Chair Lee Dudkas *77.