Our 3 Tiger Speakers
10/28: Final Spots--Success in Your Second Half of Life - 3 '68 Experts
Claim YOUR spot -- On October 28, join us to hear 3 Class of '68 experts addressing the Aging Issues that Matter -- to you and your family. Mark the date and register at the Special rate for 3 incisive talks and time for many questions.
---
As our careers evolve, we begin picturing and planning our "second half" of life.

Are you considering your retirement years, and your Second Half of Life? Feeling anxious?

Do you know what experts say are the success drivers in that Second Half? SEE SPECIAL $30 RATE (BELOW).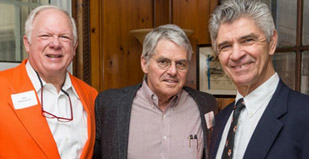 On OCTOBER 28, PLEASE JOIN three credentialed Class of '68 experts: Bob Mauterstock, CFP, Bob Schoene, M.D. and Bob Weber, Ph.D.
All have high-value answers for you about the "second half." They're models of "Princeton in the Nation's Service." After teaming for Princeton football, they've teamed again for a 2-hour workshop on second half issues -- offering solid, pragmatic guides for your family. The workshop answers questions for all adults and reflects today's shifting economic and healthcare climate.

The workshop pinpoints key issues and answers tough questions:
• What's the best way to roll out a family financial plan?
• What steps help prepare you for gut-wrenching medical issues?
• Which resources let you manage spiritual and related challenges?
MORE: SITE MAP, CALENDAR REMINDER, FAQs/QUESTIONS - CLICK at REGISTRATION PAGE (or BELOW)
WHEN: Mon, October 28, 2019 -- TIMING: 4:00 PM – 7:00 PM EDT with hors d'oeuvres + drinks
SITE: The Washington Campus 1150 18th Street NW #400 Washington, DC 20036
COST: Tickets (until Oct. 1) are $30, higher after ward.
REGISTER (at SPECIAL $30 PRICE) at ... https://bit.ly/2kAq3lV

QUESTIONS? Contact Bob Faron '68 at rsfaron@gmail.com
Refund Policy: Refunds up to 7 days before event Eventbrite's fee is nonrefundable.