Launching a Business in China - Panel - 3/02 - All Alums
Puzzled about starting a business in China? Spend a Sunday afternoon on the Hill, meet alums and hear an expert panel of Tigers review a growing list of business options inside China
---
Take a winter's break with fellow alumni in a Hilltop Sunday afternoon -- share good food, talk, and a special panel of experts on China.
China just reported a 2nd straight year of 11% economic growth.
Would an opportunity to hear more about this interest you?
---
BRIEF RECAP, ANYONE?: See the News and Notes section at APGA's Regions Webpage (by moderator Rose Li) for the day's highlights: http://apga.reuniontechnologies.com/dynamic.asp?id=regions.
Part of this RECAP appears below --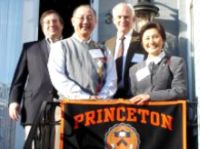 Our Presenters on March 2nd: Levine, Wu '79, Johnston *98, Suettinger '70
APGA and the Princeton Club of Washington featured a major panel
on March 2nd, "Launching Your Business in Today's China," that
featured four seasoned professionals, Henry (Hank) Levine, David S.
Wu '79, Richard (Rick) Johnston '64 *98, and Sue-Jean Lee Suettinger
'70, who shared their personal experiences and strategies for business
success in China. Brief biosketches of the speakers, sample questions
submitted by attendees in advance of the meeting, and additional
background information are available in the handout (on the APGA
website). Bob Martinez '75, President, PCW and Cary Elliott *98,
the Graduate Alumni Representative, PCW, welcomed participants
to the event; Rose Maria Li *92 moderated. Sue-Jean highlighted
these 4 key factors crucial for business success in China:
1 - Know and explit the reasons for entering the China market -- what
you're there to achieve -- and get the help you need.
2 - Identify and tap an effective partner in China to help navigate the
challenges (in addition to economic and political risk factors, foreign
currency rules, quality control)
3 - Establish good guanxi with important entities; and
4 - Use Chinese-speaking staff who understand the bureaucracy
and can serve as your advocate. Hank considered the largely positive
role of China in the world today. He named a broad range of issues
(e.g. SARS, missile defense, narcotics, Darfur) for which China's
role has become absolutely critical in helping to resolve. China's
economy is relatively open; U.S. exports to China are soaring.
Business surveys consistently show that U.S. companies in
China have healthy profit margins. Among the key challenges
are structural issues such as the lack of transparency in decision-
making and the inability of the government to enforce laws. Rick
has been working in the China arena since 1979 and has witnessed
the ambitious transformation of China, with its huge and diverse
population, into a modern state and political player, while managing
to keep the country stable politically. SEE MORE …
http://apga.reuniontechnologies.com/dynamic.asp?id=regions
---
You'll learn from and meet this unique panel of Tigers:
- Richard (Rick) Johnston, '64 WWS *98 M.A. Politics, Senior International
Business and Strategy Advisor, Baker Donelson, and former Principal Deputy
Assistant Secretary for International Economic Policy and former Commercial
Minister, U.S. Embassy, Beijing, China
- Henry (Hank) Levine, Senior Vice President, Stonebridge International, formerly
Deputy Assistant Secretary of Commerce for Asia, U.S. Consul General in
Shanghai (1999-2002), and former Deputy Director for Economic Affairs at the
State Department's Office of Chinese Affairs
- David S. Wu, '79, President, Wu & Associates LLC; Managing Director, CITIC
Capital (the largest Chinese financial conglomerate); Senior Advisor, Horton
International, Executive Search and Management Consultants; and National
Committee Member, Princeton Prize in Race Relations
- Sue-Jean Lee Suettinger '70 (East Asian Studies), Management Consultant,
former Director of International Business Services, Coopers & Lybrand,
former Manager of Business Advisory Services, The U.S.-China Business
Council, and Vice Chair, Asian American Alumni Association of Princeton
Come join the discussion and network with other area alumni.

TOPIC: "Launching U.S. Businesses in China -- What it takes"
WHAT: Panel with expert speakers, refreshments provided
WHERE: Capitol Hill venue (Metro-accessible)
324 Independence Avenue S.E. (near Pennsylvania)
Washington, DC 20003
WHEN: Sunday, March 2, 2008
METRO: Capitol South
COST: $10 for registration, refreshments
This is Part 1 of a 2-part series that continues in Fall 2008.
---
REGISTER USING 1 of 2 OPTIONS ...
NOTE to USERS NEW to our SITE --
Be sure to sign on the website BEFORE you purchase your
tickets. If you're new to PCW, go to home page/TOP LEFT link
("New user, registration is free"), click and follow the steps.
The site works like Amazon's, where you need a unique email
and password combination to make a purchase.
THANK YOU FOR SUPPORTING THE PRINCETON CLUB of WASHINGTON.
OPTION 1: REGISTER ONLINE with YOUR ONLINE PAYMENT (faster option)
REMINDER for PCW members: SIGN IN (Email+Password) to website first
QUESTIONS? Please contact Lee Dudka *77, webmaster@pcw-dc.org
Forgot your password? Click "Forgot your password?" on home page:
or here -- https://www.pcw-dc.org/user.html?op=ru
Click here to buy tickets (after signing on)!!!
OPTION 2: REGISTER by MAIL/FAX -- click below (downloadable form)
to mail or fax in.
https://www.pcw-dc.org/vault/EVENT_REGISTRATION_ByFax_5.pdf