SOLD OUT Election-Ready Book Talk: Marc Fisher '80/"Trump Revealed"
SOLD OUT. Think you KNOW Donald Trump? Despite many decades of scrutiny, much of Donald Trump's life is not well known. Marc Fisher '80 (30+ year Washington Post veteran) discusses his book, Trump Revealed. FOOD, DRINKS, SAVVY TALK -- NO MORE TIX.
---
FELLOW ALUMS: WE NOW HAVE a SOLD OUT ELECTION-READY BOOK TALK BY Washington Post Editor MARC FISHER '80, co-author of Trump Revealed.
DATE: OCTOBER 5th -- official start 6 PM (doors open 5:45).
SOLD OUT!!! -- NEW MAJOR SPEAKERs TBA SOON.
ON 10/05: WE CANNOT ADMIT WALK-IN (No-Ticket) GUESTS.
WHO IS Donald J. Trump? Despite decades of scrutiny, many aspects of
his life are not well known. To "discover" Trump, join Marc Fisher '80, a
30-yr. Washington Post veteran, discussing his book, informed by
a Washington Post team of award-winning reporters and researchers who
have probed every aspect of Trump's life, from his privileged upbringing
in Queens to his astonishing 2016 rise to seize the Republican candidacy
for president. Book co-authors: Pulitzer Prize winner Marc Fisher '80 and
Michael Kranish.
Marc Fisher offered us a sold-out talk earlier on the future of media.
REGISTER HERE -- SORRY -- NOW SOLD OUT!!!

ALL OF OUR ALUMNI and THEIR GUESTS ARE WELCOME.
REGISTRATION QUESTIONS? E: leedudka@verizon.net
FOOD, DRINKS and REFRESHMENTS AVAILABLE.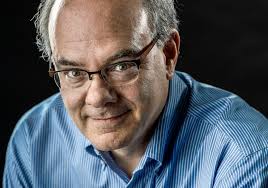 MARC FISHER '80 - photo by Bill O'Leary
NOTES on the AUTHOR --
Marc, Senior Editor at The Washington Post, reports and writes on a
wide range of topics. He is co-author of Trump Revealed, a biography
of Donald Trump. Earlier, he was The Post's Enterprise Editor, leading
a team of writers creating narrative journalism and experimenting with
new forms of storytelling for digital and print editions of The Post.

For this Pulitzer Prize winner, it's his third book, and he has served
as Ferris Professor of Journalism at Princeton University.
_______________________________________________________________________________

"If it's a bad book, it would be very detrimental to me. It shouldn't
be a bad book. If you're going to do it, we might as well try and get
it right…. That's why I'm talking to you."
— Donald J. Trump, to the authors, April 21, 2016
_______________________________________________________________________________
WHEN: WED., OCTOBER 5, 2016
DOORS OPEN – 5:45pm; FOOD at 6pm.
TALK + Q&A: 6:30 – 7:30pm
BOOK SIGNING: 7:30pm

TRUMP REVEALED available for purchase + signing
QUESTIONS for MARC FISHER? E: trumprevealed@gmail.com
WHERE: JOIN US at the law firm of
WILLKIE FARR & GALLAGHER
SUITE 100/GROUND FLOOR
PARKING: 1800 M STREET (ON 18TH -- LEFT SIDE, betw. "L" + "M" Streets)

USE THIS 24-hour LOT -- SHOWS the ADDRESS ABOVE ENTRANCE.
MOST LOTS CLOSE BY 7 PM -- THIS ONE STAYS OPEN.
COST (AFTER 5 PM): $7
METRO: Farragut North or Farragut West

WE HAVE NO EXTRA ROOM for WALK-INs.
REGISTRANTS: ARRIVE EARLY (5:45 pm at Willkie Farr)
NOTICE: The Princeton Club of Washington, D.C. is a regional alumni association and as such is a secular, non-partisan organization dedicated to serving the needs of local alumni of Princeton University. PCW's sponsorship of this event is not to be interpreted as implying advocacy either for or against the opinions expressed by those presenting the event itself.