Join our PCW Welcome to Grad School New Admits in DC - 7/17
Ready for great conversations? 7/17 (2-4 pm): Join the Grad School's New Admits party @Rose Li *92's (Bethesda, MD). Enjoy fine food, drinks + welcome to new admits+alums. PLUS "cameo" book talk by Larry Haas *81. TAKE a SMART SUMMER BREAK - JOIN US.
---

COME ONE, COME ALL ....
JOIN OUR PCW GRAD ALUMS' Welcome to New Grad School Admits (7/17).
Join the fun + enjoy Larry Haas's "cameo" talk on his new book ...
FOR "convention season": Larry Haas's 2016 book recreates the story
of a key partnership between (Dem.) President Harry Truman, and
(Rep.) Sen. Arthur Vandenberg, who crafted a vital new foreign
policy during global turmoil + bitterly partisan tensions. Sound familiar?
For all book details, go here ...
GREET NEW ADMITS, JOIN THE FUN/PRIZES July 17 (2-4 pm)
The Official Princeton Graduate School New Admits Party
@HOME of Rose Li *92 S*90 P18 (Bethesda, MD)

9501 Wadsworth Drive
Bethesda, MD 20817
All alumni cordinally welcome along with GS New Admits.
~~~~~~~~~~~~~~~~~~~~~~~~~~~~~~~~~~~~~~~~~~~~~~~~~~~~~~~~~~~~~
TO REGISTER, EMAIL LEE DUDKA *77 -- leedudka@verizon.net
WE NEED REGISTRATION to PLAN FOR FOOD + DRINKS.
PLEASE HELP US BY REGISTERING NOW -- IN ADVANCE.
~~~~~~~~~~~~~~~~~~~~~~~~~~~~~~~~~~~~~~~~~~~~~~~~~~~~~~~~~~~~~
WHY VISIT? COME for the FINE FOOD+DRINKS ...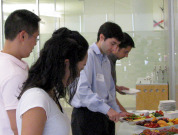 ...AND ENJOY the SMART CONVERSATION on hand ....

-YOUNG/EVER-YOUNG ALUMS GREETING NEW ADMITS...
-ALUMS SHARING POINTERS gathered from all...
-NEW ADMITS HEARING the "Secret Recipe" for acing GS courses...
-ALL ALUMS LEARNING MORE about the Graduate College + beyond.

PLANNING to ATTEND? BRING a FRIEND.
TO REGISTER, EMAIL LEE DUDKA *77 -- leedudka@verizon.net
PLEASE: ADVANCE REGISTRATION HELPS US PLAN FOR FOOD/DRINKS.
---
NOTICE: The Princeton Club of Washington, D.C. is a regional alumni association and as such
is a secular, non-partisan organization dedicated to serving the needs of local alumni of
Princeton University. PCW's co-sponsorship of this event is not to be interpreted as implying
advocacy either for or against the opinions expressed by those presenting the event itself.