National Air and Space Program+Movie: Unique Alum Child+Family Visit
In this golden age of space science, PCW's alum families and children have a new evening (10/29) to explore our expanding view of the universe with national STEM expert Dr. Jeff Goldstein of NCESSE. SEATING is LIMITED - PLEASE RSVP NOW.
---
FELLOW ALUMS: Could your child benefit from a national
expert's overview of space science + from experiencing
the work on the International Space Station?
Might you know an alum family who'd want their child conducting
a science experiment on the International Space Station?
We're in a golden era of space science, and PCW's alumni
children and families have a brand new opportunity
to explore our expanding view of the universe with
STEM expert Dr. Jeff Goldstein (NCESSE) on 10/29.

By special arrangement, our alumni families group
will join a few other schools for this 10/29 evening.
PROGRAM is FREE to PCW families. BUT SEATING
is LIMITED. RESPOND QUICKLY if you wish to join us.

RSVP NOW to Lee Dudka *77 -- leedudka@verizon.net
We will close registration by 10/28.

--------------------------------------------------------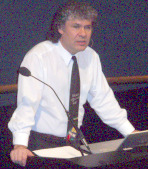 DR. JEFF GOLDSTEIN
NOTES on PRESENTER, DR. JEFF GOLDSTEIN
National STEM expert Jeff Goldstein earned his Ph.D. at Penn
and leads the National Center for Earth and Space Science
Education (NCESSE). He is developing the next generation
of space science students and a vibrant schools community
through immersive experiences. An outstanding speaker, he
is now guiding a network of 300+ schools nationally with
opportunities for their students to conduct experiments
on the International Space Station (one more set of
experiments has launched in October 2015).
SEE a VIDEO/blog on student experiments (click here).

The NCESSE programs have a 20-year heritage nationwide.
Partners: The Smithsonian Institution, NASA, the Arthur
C. Clarke Foundation, Carnegie Institution of Washington,
American Association for the Advancement of Science.
NCESSE features work at 300+ school districts, colleges
and universities.

PCW parents and children who attended this program
in the past rated this extremely highly (and this
program has sold out early in previous years).
-----------------------------------------------------

NASM PROGRAM on 10/29 with Dr. Jeff Goldstein.

-- WE HAVE 25 SEATS AVAILABLE (first come, first served)
Program is aimed at 10-yr.-olds + older (and their families).

RSVP (for Alum parent/adult + child or guest):
SIMPLY email Lee Dudka *77 at leedudka@verizon.net

NOTE: Please SIGN UP with a commitment to being there.
WE WILL CLOSE REGISTRATION by OCTOBER 28.

-- TIMING: NASM doors open at 6:45 pm (after closing).
-- ENTRANCE: ENTER via INDEPENDENCE AVE. SIDE.
-- SCHEDULE:
-6:45 - 7:15: Free time in the Museum, so you and guests
can arrive a bit after 6:45 pm (if needed), but it's best
to enter as close to 6:45pm as possible.

Drew Schoelen K'81 (earlier NASM program)
7:15: Initial comments by Jeff Goldstein
, followed by
viewing of the IMAX movie, "Space Station 3D."
-AFTER MOVIE: Deeper discussion on "Human Exploration."

PROGRAM + NOTES for 10/29/15 ...
- IMAX film: "Space Station 3D"
- TALK: "Human Exploration-The Journey Continues"

Space Station 3D - The first-ever IMAX® 3D space film, Space Station 3D takes you to
International Space Station to experience life in space. Floating alongside the men and
women who inhabit the new station, audiences literally feel a part of the mission occurring
220 miles above Earth. The film is the story of a unique partnership between 16 nations
who've built a laboratory in outer space. Directed and filmed in space by the Astronauts.
(The narration is by Tom Cruise.)
THE TALK: "Human Exploration, The Journey Continues" is a wondrous look at humans and
what drives us to great frontiers. Standing on the shoulders of past generations, we have
a remarkable history thus far: The first moonwalk was on July 20, 1969. Today, people world
wode work together to continue developing the space station as a research laboratory over
200 miles above the surface of our world.
WE LOOK FORWARD TO SEEING YOU THERE. RSVP NOW.