Princeton Women's Network-DC (PWN-DC) Speaker Event: Balancing Act
A Discussion on Career, Family, Community and Leadership
Join the Princeton Women's Network DC (PWN – DC) and our distinguished panelists, Mariana Fariña Bush '89 S'89 and Shefali Razdan Duggal, for a discussion on building a meaningful career and navigating the challenges we all face in striving for a multi-dimensional life. Our panelists will discuss their own paths, including career opportunities and challenges, as well as perspectives on career, family, community and leadership.

Doors open at 6:15pm for a Networking Reception. The Program, including panel discussion and Q&A, to follow from 7:00pm to 9:00pm.

Questions for PWN – DC and our panelists are warmly welcomed and encouraged! Please contact Sarah O'Sullivan '00 at sosullivan@law.gwu.edu.

Hosts: Kimberly Ho Schoelen '81, Nalini Pande '93 and Sarah O'Sullivan '00.

Date: Wednesday, March 4th
Time: 6:15 pm
Location: City Tavern Club, 3206 M Street, NW, Washington, DC 20007

Ticket Prices:
Young Alumni (Classes 2012 to 2014) - $15.00
Members - $20.00
Non-Members - $30.00
Click here to buy tickets!!!
Speaker Biographies
UPDATED SPEAKER INFORMATION: Due to a death in her family, Nan Sutter Hayworth '81 S'78 is unable to speak next week. We are fortunate and excited to have our own Princeton Club of DC member Mariana Bush '89 S'89 join us as a panelist.
Mariana Fariña Bush '89 S'89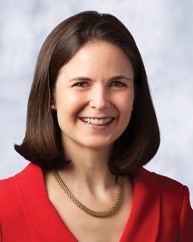 Mariana Bush was born and raised in Lima, Peru, where she attended the German School Alexander von Humboldt and the Pontificia Universidad Católica del Peru. She received her B.S.E. in Civil Engineering and Operations Research from Princeton in 1989. At Princeton she was involved in the International Center.
She is the head of the closed-end fund (CEF) and exchange-traded tracking product (ETP) research team at Wells Fargo Advisors. There she provides financial advisors and their clients with individual security recommendations in the CEF and ETP universes. Mariana began her career at Furman Selz in New York as an associate analyst where she followed technology companies -- long before the Internet became a household name. In 1991 she joined Wachovia Securities, a predecessor of Wells Fargo Advisors, as an analyst in Investment Strategy. Mariana began following CEFs in 1993, and she assumed coverage of ETPs in the late 1990s. Mariana has been widely quoted in publications such as Barron's, Bloomberg, and The Wall Street Journal and has won several industry awards. Since 1995, she has worked full-time from home.
Mariana and her husband Derek (Princeton '89) live in Washington, DC with their two teenage daughters. Her current and past involvement with her daughters' schools includes chair of the International Committee, grade activities chair, and organizing events such as the cross country banquet, the Chorale banquet as well as a recent theater cast party at her home. Her Princeton volunteer activities include organizing dinners in Lima for students participating in Princeton's Bridge Year Program in Peru, and local alumni. Mariana is a lifetime member of the Princeton Club of Washington and participates in the monthly PCW-DC Eating Club dinners organized by Brian Baum '96. She loves to meet fellow alumnae at Princeton Women's Network-DC (PWN-DC) events.

Shefali Razdan Duggal



Shefali Duggal was born in India and raised in Cincinnati. She received a B.S. in Mass Communication from Miami University (Oxford, Ohio) and a Masters in Political Communication from New York University. She is a member of the Democratic National Committee's National Finance Committee and is a Co-Chair for the DNC Women's Leadership Forum. She is also a Presidential Appointee to the United States Holocaust Memorial Council, a member of the National Board of Directors for Emily's List and Co-Chair of the Ready for Hillary PAC, among others.
In addition, Shefali is a member of the Democratic National Committee's Hope Institute Board (a network of supporters willing to serve as mentors to Hope Fellows as they explore careers in politics). Shefali is also on the National Advisory Board of Doctors for America, the National Advisory Board of Beyond Bollywood (Smithsonian Museum), the National Advisory Board of Inside Washington (Miami University), Advisory Board of Emerge America, Senior Advisor for South Asian American Digital Archive (SAADA) and an Advisor to viiv.tv. In 2012, Silicon India News named her one of the "Five Most Influential Indian Women in U.S.".
Shefali is involved with Human Rights Watch and currently works on various U.S. Senate and Congressional campaigns throughout the country. In the early 2000's she took a 5-year hiatus to raise her two children. Shefali lives in San Francisco with her husband Rajat and their son and daughter.