SOLD OUT/NO ROOM--PCW's Global Net Night: "Your Pivot Points" + Networking - 3/23
SOLD OUT - NO SEATS at our 3/23 GNN with fine career pointers (DC Net Nights' 15th year). Hear an expert, meet fellow execs, get answers to issues. Get pointers, immersion learning/guided breakouts -- NO WALK INs, PLEASE.
---
SEATS GONE -- NO WALK INs, PLEASE.
SOLD OUT!
FELLOW ALUMS: HIGHLIGHT THIS on your CALENDAR --
March 23 (6:15 pm) at 2020 K Street (Washington, DC).

SEEING a PIVOT POINT in your career, or reaching one?
-- Anticipating changes at work after a reorganization?
-- Looking for a move to a higher level?
-- Seriously considering a switch to a new field?
-- Or simply wondering how to best conduct a planned,
focused and well-mentored transition?
JOIN OUR GLOBAL NET NIGHT on "NEGOTIATING YOUR CAREER
PIVOT POINTS" -- both short term and long term -- with key
pointers from Martha Johnson, former GSA Administrator
and executive at Cummins, CSC, SRA. (BIO below.)

At our event site, you'll hear lessons learned from our expert, and
use facilitated breakouts to air your key challenges in a dynamic
post-speaker session. It's a learning-intensive March 23rd eve, all
starting at 6:15 pm -- with food/drinks + door prizes.
OUR GOAL: To give you career-ready guides, plus answers to
your questions + time to meet every person in the room.
Click HERE to buy Your+Guest tickets!!!
SPEAKER: Martha Johnson, leader, author, speaker.
GETTING THERE:
WHEN: MONDAY, March 23rd, 2015 - TIMING: 6:15 pm to 9 PM
WHERE: Morgan Lewis - 2020 K St. NW, Washington, DC 20006-1817
Note: SITE is at the MAIN Meeting Room, 11th Floor.
Corner of 21st and K Streets in Washington.
METRO: Either of the Farraguts; PARKING: on street (after 6:30)
ON TAP for you: GUIDES from our SPEAKER, FOOD + NETWORKING
REGISTRATION/OTHER QUESTIONS? E: leedudka@verizon.net
Martha Johnson, our expert speaker
GNN SPEAKER BIO -- Martha Johnson
Martha Johnson is an author, speaker, and consultant with a 35-year career
in public and private organizations. She served President Obama as Administrator
of the General Services Administration and served eight years with the Clinton
Administration. Her business career includes senior positions at Cummins Engine
Company, Computer Sciences Corporation, and SRA International.

She published On My Watch: Leadership, Innovation, and Personal Resilience,
an Amazon best seller in 2013. She blogs at www.MarthaJohnson.com. Her novel,
In Our Midst, was a quarterfinalist in Amazon's 2013 Breakthrough Novel Awards.

Johnson has been featured recently in The Washington Post, Politico Magazine,
C-SPAN BookTV, and many industry publications. She contributes to the Op Ed
page of CNN Digital. Yale University also created a business case about Johnson
for their core leadership course (at the Yale School of Management).

Johnson earned her BA at Oberlin College and an MBA from Yale University.
Married, with adult children and an elderly father, she lives in Annapolis.
EXTRA -- PLEASE TAKE NOTE re GNN - Part 2 (COMING LATER):
This year, the Alumni Council Committee on Careers has partnered
with the Office of Career Services along with Princeton's new
Executive Director of Careers Services Pulin Sanghvi to support
the 5th Annual Global NetNight.

Using concepts from their Career and Life Vision program, Pulin and
his team developed new video segments and much more designed
to help you discover new insights on your key career concerns.

Pulin Sanghvi will join us (at PCW) later in 2015 for an extended
session on these additional materials. This will be Part 2 of our
Global Net Night SERIES in 2015. Stay tuned -- DATE TBD.
WE WILL AGAIN HAVE a PREMIER SITE for GNN PART 2.
CLICK HERE: For Your/Your GUEST tickets!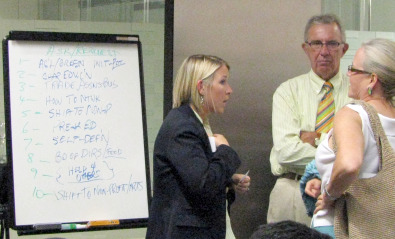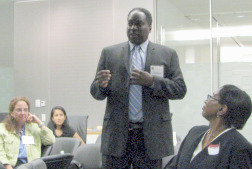 LOOKING to SEE YOU THERE. JOIN US.