LAST CALL: 5/22--Reflections from the Bench--Judge Denny Chin '75
LAST CALL: PCW, A4P + APGA invite you to hear the Hon. Judge Denny Chin '75 (U.S. Court of Appeals, Second Circuit) and 2011 Woodrow Wilson Awardee. Enjoy fine food + conversation with the judge who sentenced Bernie Madoff to 150 years.
---
FOR SOMETHING COMPLETELY DIFFERENT: Join our "legal focus night"
with the Hon. Judge Denny Chin '75 -- in extended discussion with
fellow Tigers on topics ranging from Megan's Law to Bernie Madoff.

Judge Chin has presided over many prominent cases in this country.
Come hear "the rest of the story" behind some of Judge Chin's most
celebrated and controversial rulings, his life as a federal judge
and his path to the bench. President Obama appointed Judge Chin
(confirmed by the Senate 98-0) to the Second Circuit in 2010.

Judge Chin, born in Hong Kong, came to the United States with his
family when he was 2. He was the sole Asian-American to fill an
active judgeship on a United States Court of Appeals. Please join
us for an evening of personal reflections and conversation with
the Hon. Judge Denny Chin '75.
PLEASE NOTE: WE'RE FILLING UP -- ACT FAST to GET TICKETS!
Click here to buy your own + your guest tickets!!!
Want scintillating legal discussion? Put May 22 -- 6pm on your calendar.
ALL ALUMNI are welcome.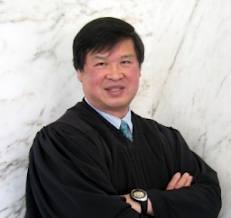 Judge Chin '75 S'75--the 2011 Woodrow Wilson Prize winner.

This event is co-sponsored by PCW, the Asian American Alumni Association of
Princeton (A4P) and the APGA (Association of Princeton Graduate Alumni).
DETAILS on HOW TO GET THERE ....
EVENT: The HON. Judge Denny Chin '75, Woodrow Wilson Prize Winner (2011)
WHEN: Wednesday, May 22, 2013 - 6:00 pm (PLEASE NOTE START TIME)
SITE: Bingham (law firm)/11th Fl. - 2020 K Street (corner of 21st + K Sts.)
Washington, DC 20006
METRO: Either of the Farraguts; PARKING: On street and in nearby lots.
WE LOOK FORWARD TO SEEING YOU THERE.
Click here to buy your (and your guest) tickets!!!