SOLD OUT -- Global Net Night/GNN 3/12/13 -- 6:30pm
SOLD OUT - NET NIGHTS (GNN edition): Facing sequester/mid-career issues? Get TRANSITION guides from experts - Tina Sung '71, VP-Partnership for Public Service, Edward Golding *82-Ret.- SVP, Freddie Mac. CANNOT accommodate more!
---
SORRY BUT WE ARE SOLD OUT .....
for our 3RD ANNUAL Global Net Night ...
In our 12th year of Princeton Net Nights in Washington, DC..
3/12-6:30pm: "Planning and Managing Your Transition."

QUESTIONS? E: lleedudka@email.com
Click here to buy YOUR TICKETS!!!
~~~~~~~~~~~~~~~ WHY VISIT? ~~~~~~~~~~~~~~~~~~
ARE YOU at a PIVOT POINT in your career, or reaching one?
- Facing sequester furloughs and changes?
- Looking to move a few rungs up the ladder?
- Considering a switch to a new field?
- OR ... just wondering how best to conduct a
really focused and sure-footed transition?
ANSWERS for mapping your transition steps from 2 experts:
TINA SUNG '71, ED GOLDING *82 (BIOs** below).
GET the BENEFIT of our follow-up GUIDED NETWORKING ...
For new contacts/deeper answers to questions, join our guided breakout groups.
FIND more answers and mentors, a business partner, next boss or new employee.
It's a "Double-Scoop": Great Net Night Networking and expert pointers.
Invest in your career. You owe it to yourself to be ready for future changes.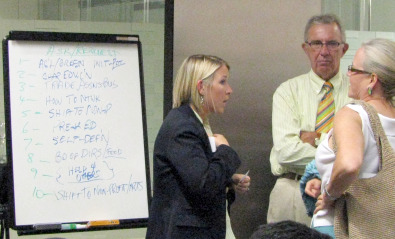 GETTING THERE --
WHEN: Tuesday, March 12th, 2013 - TIMING: 6:30 pm to 9 PM
WHERE: Bingham - 2020 K St. NW, Washington, DC 20006-1817
Note: It's at MAIN Meeting Room, 11th Floor.
Corner of 21st and K Streets in Washington.
METRO: Either of the Farraguts; PARKING: on street (after 6:30)
QUESTIONS? E: lleedudka@email.com
Click here to buy your tickets!!!

**SPEAKER BIO - TINA SUNG '71, VP-Partnership for Public Service...
Tina Sung has distinguished multi-sector executive leadership experience. Before joining the Partnership, Tina was founder-President of Synergy Works LLC, which provides strategy and performance improvement consulting to the federal government, state and local governments, NGOs and Fortune 500s. She founded Experience Matters: the Executive Transition Experts, helping senior executives facing reorganization, a new job, or retirement to make a smooth transition to the next stage of their lives.
She is immediate past President and CEO of the American Society for Training and Development (ASTD), the world's leading association of professionals specializing in workplace learning and performance. She now serves on the SHRM Foundation Board, which represents a quarter-million HR Management professionals worldwide. Her government experience includes key senior executive service (SES) positions in the Social Security Administration and the Department of Health and Human Services.
In the 1980s, she served as a co-creator of the Federal Quality Institute, a driving force for bringing quality principles to government (Reagan/Bush administrations). She was appointed Executive Director of the Federal Quality Consulting Group (Department of the Treasury), a unique fee-for-service leadership and management consulting service for top federal executives. In 1999, Fast Company magazine and the Innovation Network conferred the "George Land World Class Innovator Award" on the Group for its entrepreneurial approaches to serving government leaders.
Tina served 6 years as an advisor to the Office of the Vice President's National Performance Review and the National Partnership for Reinventing Government (Clinton administration). She was Staff Director of the Federal Advisory Committee on Excellence in Customer Satisfaction and oversaw the breakthrough introduction of the American Customer Satisfaction Index (ACSI) in the federal government, whose results have been reported annually in the Wall Street Journal. Tina has also served as a Senior Examiner on the Malcolm Baldrige National Quality Award Board of Examiners, and is a Certified Association Executive (CAE).
Tina graduated cum laude from Princeton (1971). She completed Harvard's John F. Kennedy School of Government Program for Senior Managers and the Federal Executive Institute's Leadership and Management Program, and was a participant in the (White House sponsored) President's Executive Exchange Program.

**SPEAKER BIO: EDWARD GOLDING, Ret.-Senior VP, Freddie Mac ...
For over 25 years, Ed has honed his expertise in mortgage finance. He began at the Federal Home Loan Bank Board as a specialist assistant to a board member during the savings and loan crisis (late 1980s) and then joined Freddie Mac. At Freddie Mac, Ed has had a variety of key responsibilities ranging from investor relations to enterprise risk oversight. Recently, he was program executive for Freddie Mac's implementation of Making Home Affordable that helps homeowners with mortgage refinancing and modifications. He has led Freddie Mac's research and strategy areas.
Prior to mortgage finance years, Ed taught at the University of Pennsylvania and the University of Florida. For the last 5 years, he has taught a course on financial markets at the Woodrow Wilson School. Ed's AB (applied math) is from Harvard, his PhD (economics) is from Princeton. He is married to Nadja Zalokar Golding *82, has 2 sons and serves on Princeton's APGA Board.
Ed is preparing for Hill hearings on his next career appointment, and he will share pointers on the preparation involved in those hearings.