SOLD OUT: 1/18 Inaugural--Norm Augustine/Lisa Jackson/Chris Lu
SOLD OUT: Princeton + Harvard team up again for a truly unique Inaugural Eve on Inaugural weekend. Meet Norm Augustine '57, Lisa Jackson *86, Chris Lu '88. SITE: University Club/16th Street in DC. Details below ....
---
SORRY -- SOLD OUT AT OUR Jan. 18th PCW-HCW INAUGURAL EVE (University Club).
WE CANNOT ACCOMMODATE ANY MORE -- WE'RE AT CAPACITY (~250).
WHETHER you're VISITING or IN DC, you'll enjoy an Inaugural Eve in a DC tradition like no other. Friday, you'll hear 3 popular and distinguished alumni. Our dwindling-stock tickets will sell out early during event week.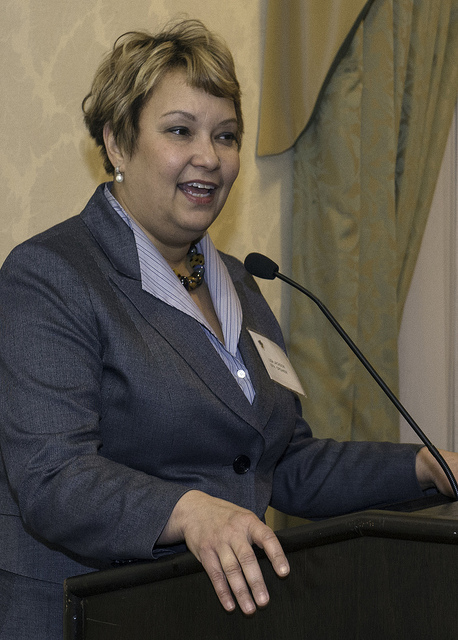 LISA JACKSON *86 -- EPA Administrator -- part of our TRIO of PUBLIC SERVANTS, along with NORM AUGUSTINE '57 *59 - Former CEO-Lockheed Martin and Under Secretary-US Army; CHRIS LU '88 - Assistant to the U.S. President Barack Obama and Cabinet Secretary.
SEE OUR FULL PHOTO ALBUM of the EVENT HERE for this outstanding Inaugural Eve at our HOME PAGE (NOW UPDATED). ALL PHOTOS ABOVE and BELOW provided courtesy of Chris Connell '71 -- All Rights Reserved.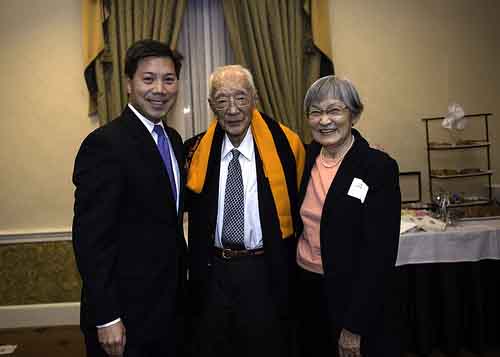 CHRIS LU '88 GREETS KELLY KUWAYAMA '40 and his wife FUMIKO KUWAYAMA. We did a special recognition of Kelly Kuwayama as the first Asian-American to graduate from Princeton. SEE MORE at our PHOTO ALBUM for JAN. 18, 2013 (home page).
- Hear fellow alumni Norm Augustine '57 *59, Lisa Jackson *86, Chris Lu '88, all now serving this nation ...
- Meet Harvard's many DC alumni celebrating this outstanding evening with you...
- Savor our splendid buffet plus special moments to celebrate the Inaugural... 3 great reasons to attend
Meet and learn from peerless alumni Norm Augustine (Princeton BS, MS) and Lisa Jackson (Princeton MS), in-demand speakers and Princeton James Madison Medalists (plus winners of national awards). NEWS: NOW JOINING US is the multi-talented Chris Lu '88, Assistant to the President and Cabinet Secretary.

NORM AUGUSTINE -- Our lead remarks on Jan. 18 come from Norm Augustine '57 *59, former CEO and recent chair of President Obama's NASA Space Flight Plans Committee. Norman R. Augustine has served 4 US Presidents, many major federal agencies. He is the retired Chairman and Chief Executive Officer of the Lockheed Martin Corporation. A former Under Secretary of the Army, he's been compared to Microsoft's Bill Gates for his distinguished national technology leadership.
Norm Augustine leads key Presidential workgroups, including the President's Council of Advisors on Science and Technology. Author of Augustine's Laws and Augustine's Travels (and an "extreme hiker"), he earned the National Medal of Technology and the U.S. Department of Defense's highest civilian award (five times). He is also a James Madison Medalist from Princeton recognizing him as one of Princeton's distinguished Graduate School alumni.

LISA P. JACKSON, Administrator, US EPA - Joining us also on 1/18 is the Honorable Lisa P. Jackson, who leads EPA's efforts to protect the health and environment of the US. She heads a staff of 17,000 professionals developing a green economy and addressing health threats from toxins and pollution. She worked tirelessly in managing the Macondo/Gulf oil spill (2010) when it threatened a vast portion of the US shoreline, and has ensured that all of EPA's efforts reflect the best science.
The first African-American to lead the EPA, Lisa Jackson has kept her focus on vulnerable groups (children, the elderly and low-income communities) -- all susceptible to environmental and health threats. In addressing critical environmental issues, she has ensured all stakeholders their seats at decision making tables. Prior to EPA leadership, Ms. Jackson was Chief of Staff to New Jersey's Governor (Jon Corzine) and Commissioner of the state's Department of Environmental Protection. A summa cum laude engineering graduate of Tulane University, she earned her Master's degree (Chemical Engineering, Princeton) in 1986. Like Norm Augustine, Lisa Jackson is a Princeton James Madison Medalist -- recognizing her distinguished career as a Princeton Graduate School alumna.
CHRISTOPHER P. LU P'88/HLS '91 - Assistant to the President and Cabinet Secretary for United States President Barack Obama. He also co-chairs the White House Initiative on Asian Americans and Pacific Islanders.
At Princeton's Woodrow Wilson School, his interest in politics grew quickly while interning in Republican Senator Charles Mathias's office. After a senior thesis on press coverage in presidential campaigns, he graduated (1988) magna cum laude. At Harvard Law School, he was one of Barack Obama's classmates (1988-91) and graduated cum laude.
Though casual acquaintances while at Harvard, they grew to be close friends once Chris Lu began to serve Barack Obama in his U.S. Senate office (2005) -- as legislative director and acting chief of staff. After the President's successful 2008 campaign, he became Cabinet Secretary and remains among the highest-ranking Asian Americans in the administration. Lu's new roles: Represent the President's positions to Cabinet Secretaries and agencies and coordinate a common White House agenda among them. "When agency heads have a problem ...," one observer noted, "Mr. Lu [is] the first person who's called, or calls."
In 2009, he joined an official Obama administration delegation to China. Though Chris Lu's parents were born there, it was Lu's first visit to Chinese soil. Chinese Premier Wen Jiabao met Lu and later commented: "I know the name and also the importance of his position."
This is a premier lineup, with a great atmosphere, splendid food and several hundred alumni to greet you.
Enjoy an inaugural event MINUS the traffic, high costs and hassles of Inauguration Week. Your reward: a sumptuous buffet, drinks, plus music and singing. SIGN UP HERE NOW ...




Scenes from our last Inaugural Eve ...
SIGN UP QUICKLY for this outstanding, festive eve with Tigers and fellow Crimson.
FULL DETAILS: UNIVERSITY CLUB -- 6:30-9:30 pm -- Friday, January 18, 2013
1135 16th Street NW - Washington, DC 20036
BUSINESS ATTIRE REQUIRED. QUESTIONS? Same-day-reply Q&A -- E: lleedudka@email.com
METRO: McPherson Square (Orange/Blue Lines); valet+street parking available.
Inaugural VIEW from the Mall (photo courtesy of Chris Connell '71) ....