SOLD OUT-NetNight/GNN-2/15: Social Media+Live Networking
SOLD OUT/Wait List Only: Global Net Night-2 skillsets. Learn from our expert on social networking media; then spike up your network links with our fun group networking. Our 11th year.
---
Do you put your best foot forward when facing online or in-person networking?
Our Global Net Night helps boost your skills in both ways.
SOLD-OUT: REGISTRATION CLOSED Mon., Feb. 14 at 1 pm.
PICK of the PIX (from the event) .....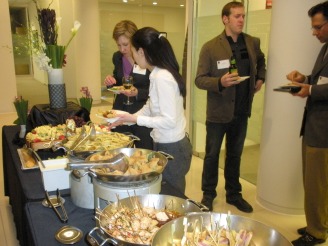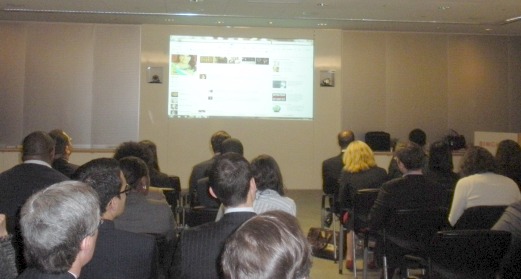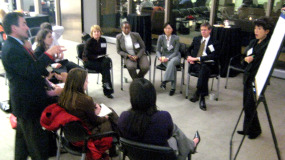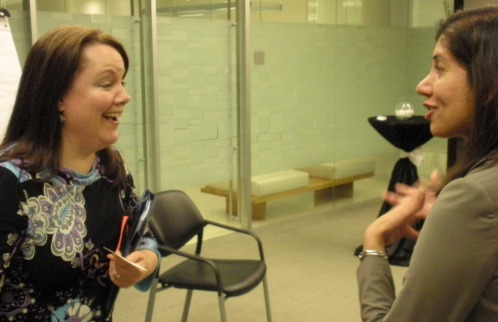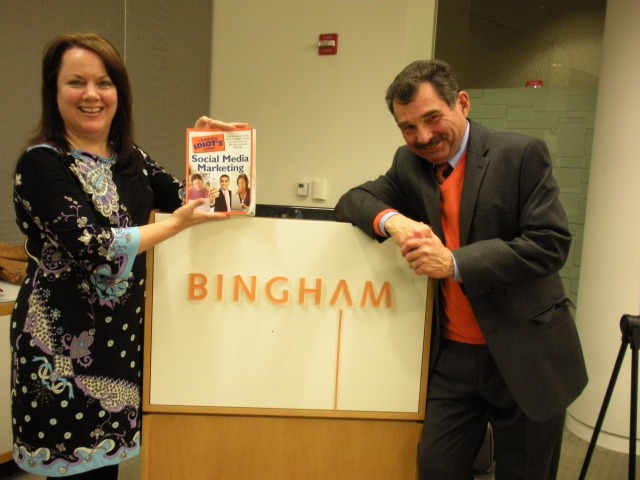 Pre-event grand spread, speaker Jenn, Ellis and Kovac (09ers), on-screen HOW-TO, "net breakouts," dealing cards, and a bit of orange...WE HAD FUN, in short.
Calling Tiger alumni, Graduate and Undergraduate: Join PCW's 2/15
evening for a career networking event, "Networking Without Borders:
A Princeton Global NetNight." It's down to the wire: We've got our
final spots for Princeton's Global Net Night, which occurs in 21
cities on Feb. 15th. And, it's our 11th year of Net Nights in DC.
If failure is not an option, and you want the best networking tools
to ensure the right fit for you -- whether in your current, or future
post -- then JOIN US. Get your COMPLETE NETWORKING KIT
-- with an expert on social media, plus fun onsite guided networking.
Focus: Get to know your best social media options.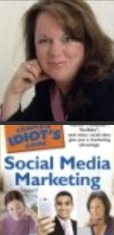 MEET SOCIAL MEDIA expert Jennifer Abernethy onsite
-- the author of "Social Media Marketing" -- who joins us on 2/15
.
FastCompany.com calls her social media savvy "the real deal."
Want to avoid social media "hangover" (a glut of options)?
OR need results + skills as you learn to tap the value of
LinkedIn, Twitter and more in advanced mode?
SPECIAL NOTES for ALL REGISTRANTS:
- SEND ADVANCE Qs for our DC EXPERTS. Email ...
them to us ... WE'LL ANSWER!
- For our MAP of all GNN CITIES, GO HERE.
- For the Princeton-only GNN LINKEDIN Group, GO HERE ...
.................... GETTING THERE ...........................
WHERE: 2020 K St. NW 20006 - 11th FLOOR (Bingham)
Corner--K + 21st Streets SITE MAP - GO HERE.
WHEN: 6:30 pm - 9:00 pm, Tuesday, Feb. 15, 2011
PARKING: On streets & next to Thai Kingdom (rest.).
METRO: FARRAGUTS - North + West.
Reception offers fine food and refreshments
COST: $15-Member+NON-Member-$15 (a bargain)
SPACE IS NOW QUITE LIMITED and will sell out.