Tigers: Meet Distinguished Princeton Prof. Nan Keohane
Sign up BEFORE the deadline: Wellesley + Tiger alums welcome Distinguished Professor Nan Keohane, now leading a study of undergraduate women's leadership at Princeton campus, and author of a new book.
---
The Washington Wellesley Club is holding an alumni reception for
Princeton Professor Nan Keohane - former President at both Duke
University and Wellesley College -- and invites Washington, DC
area PCW and Princeton alumni to visit as their special guests.

NOTE: Ticket allotment for Princeton has a LIMITED STOCK.
THE EVENING's FOCUS: NAN KEOHANE RECEPTION
When: Wednesday, December 8, 2010
Where: Letelier Theater
3251 Prospect Street NW
Washington, DC
SITE DIRECTIONS: http://leteliertheater.com/directions/
TIMING: 7pm - 9pm - WINE + BUFFET RECEPTION at 7pm.
Cost: $40 - SEE REGISTRATION DETAILS PAGE BOTTOM
TO RSVP FOR THIS (Deadline-Monday Dec. 6, 2010) --
SEE DETAILS BELOW....

REPLY TO Judith Miller at jorjmiller@comcast.net

PROVIDE info + CHECK in advance to reserve spot - $40/ticket
MAIL YOUR CHECK TO --
Wellesley Club of Washington, DC - Alumna Judith Miller
704 Kings Court, Alexandria, VA 22302.
Show # of tickets, affiliation, EMAIL. This may sell out soon.
FEW WALK-IN spots (if any) will be on hand (check payments ONLY).

ANY QUESTIONS?
Contact Christine Beever via email at cbeever@gmail.com or phone
at 240-447-1309 or ...
Contact Rhoda Canter via email at rhoda.canter@gmail.com or phone
at 202-316-2333.

Nannerl O. Keohane, former President of Wellesley College and Duke
University, is Princeton's Laurance S. Rockefeller Distinguished Visiting
Professor of Public Affairs and the University Center for Human Values
at Princeton University.

TIGERS, PLEASE NOTE ~~~~~~~~~~~~~~~~~~~~~~~~~~~
Professor Nan Keohane now leads a new committee on Undergratuate
Women's Leadership at Princeton and will offer some remarks on that.
President Tilghman asked that Distinguished Professor Nan Keohane
steer this committee so that it may yield a better understanding
of women's leadership interests in academic and extracurricular
activities on campus.

~~~~~~~~~~~~~~~~~~~~~~~~~~~~~~~~~~~~~~~~~~~~~~~~~~~~~~

Prof. Keohane's book, Thinking about Leadership, was just
published by Princeton University Press.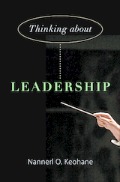 Please take the opportunity to engage her in a spirited conversation
on leadership. Wine and buffet refreshments are served at 7 pm.
Watch the RSVP DEADLINE: Monday, December 6, 2010
REPLY (with check) TO Judith Miller at jorjmiller@comcast.net -- SEE ABOVE.