Professor Emerita Elaine Showalter
Prof. Showalter's Tutorial for Alumni: Philip Roth-Portrait of the Artist
Professor Elaine Showalter's course offers deep-dive discussions of the work of Philip Roth, a writer attracting global acclaim and controversy (with Goodbye Columbus, Portnoy's Complaint, The Ghost Writer). JOIN US for the engaging debates on 10/16!
---
LUMNI: JOIN US 10/16 AT OUR NEW COURSE FOR ALUMNI
"PHILIP ROTH: Portrait of the Artist as a Young Man"
YOUR FACULTY: PROFESSOR ELAINE SHOWALTER
In this engaging course, Prof. Showalter examines the
earlier (and later) work of Philip Roth, acclaimed
internationally as a great writer and winner of all
major literary prizes except for the Nobel.
Do you miss those great tutorials on campus? Recapture
the ambiance, debates and insights right here in DC.
WHY JOIN THE COURSE? This course of intensive readings
and discussions helps you discover this master writer
and the many controversies he engaged in as he developed
his craft. (See COURSE SESSIONS below for more.)
Our Precept-style short course was developed for Tigers
and their families. If you loved your precepts, you'll
value this deep exploration of Philip Roth's key works,
alongside fellow alums and guests. Materials: Key texts,
readings, intensive discussions, plus film clips.
Your Faculty: Professor Emerita Elaine Showalter.
former Chair, Department of English Literature at
Princeton University, and author of ten books. Her
course is designed for ALL alumni and their guests.
PLEASE REGISTER BELOW:
NOTE: COURSE COSTS reflect teaching fees, faculty travel
and site fees. Questions: leedudka@verizon.net
Please join as PCW members, then sign up for the course.
As a member, you can enroll yourself or family/colleagues
but SPACE IS LIMITED. Do sign up quickly.
NOTE ON ALUMNI COURSES: Your enrollment lets you take part
in a course "capstone celebration" where you can collaborate
with us and design future Princeton faculty courses for alumni.
This is unique to PCW, so please help us develop future
faculty offerings for PCW audiences. LATER IN THE SERIES:
NEW courses on Politics and Cybersecurity.

**********************************************************************
COURSE DATES: Tuesdays Oct. 16, 30, Nov. 13, 27 (2018)
TIMING: 6:30 - 8pm Doors Open by 6:15 pm.
SITE for COURSE: Metro-accessible area (TBA shortly)
***********************************************************************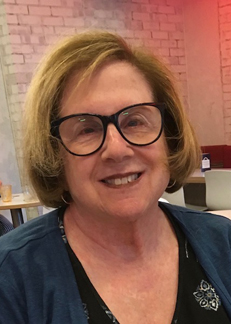 BRIEF PROFESSIONAL BIO: Professor Elaine Showalter
Professor Elaine Showalter is Professor Emerita of English at Princeton University,
where she taught 19th century English and American literature, women's literature
and contemporary fiction. At Princeton she received the Howard Behrman Award
for Distinguished Achievement in the Humanities, and the University Award for
Outstanding Teaching, and chaired the Department of English from 1990 to 1993. She
has been a Fellow of the Wellcome Institute for the History of Medicine in London,
the Salzburg Seminars in Austria, and the Huntington Library in San Marino, CA
and has received honorary degrees from Rutgers University, Roehampton University
in England, and the University of St. Andrews in Scotland. She has served as the
Chair of Judges for the Man Booker International Fiction Prize, and is a Fellow of
the Royal Society of Literature.
Showalter is the author of ten books including The Civil Wars of Julia Ward Howe:
A Biography (Simon & Schuster, 2016). Her work has been translated into German,
Italian, Spanish, Portuguese, Danish, Norwegian, Polish, Croatian, Chinese, Japanese,
and Korean. Besides her scholarly writing, she has edited books and academic
articles. She regularly writes and reviews for newspapers and periodicals in
the U.S. and U.K. (the New York Times Book Review, the Washington Post, the
New York Review of Books, the Times Literary Supplement, The Guardian, The New
Republic, and the New Yorker).
Consider joining this course created for Princeton alumni with a colleague.
COURSE DESCRPTION: Philip Roth: A Portrait of the Artist as a Young Man.
-- A course that focuses on a deep discussion of Roth's books. Audience:
Roth fans, those who think they don't like him, those who've not read his
work lately, and those who have never read him. Lots to discuss!
When Philip Roth died in May 2018, he was internationally acclaimed
as a great writer, with 27 novels which had won every literary award
in the US and every literary prize in the world except, notoriously,
the Nobel. We will read and discuss 3 books from his earlier career
that established his reputation as an important American writer, and
in which he began to explore his outrageous and profound themes:
Goodbye Columbus (1959); Portnoy's Complaint (1969); and
The Ghost Writer (1979).
We'll review controversies (on Jewishness, anti-Semitism, misogyny and
sexuality) and Roth's evolving literary credo and mastery. Alongside
these funny, erudite and shocking books, we'll discuss his essays and
interviews. Complete syllabus available in September (TBA).
COURSE SESSIONS:
1 - October 16: A Jewish writer or an American writer? Roth's first short story
collection (and National Book Award winner) drew the fire of many rabbis and
prominent critics, who accused him of anti-Semitism. Roth fought back in person
and in print but continued to have an argument with himself and his critics over
his literary and personal identity. Readings: In Goodbye, Columbus: "The Conversion
of the Jews," "Defender of the Faith." (Recommended readings in the syllabus--TBA.)
2 - October 30: Rewriting the American Dream. Through his first alter ego, Neil Klugman,
Roth wrote about the timeless experience of dreams, ambition, romance, and disillusion.
3 - November 13: A Jewish Patient Begins His Analysis. In a lengthy psychoanalysis of himself
after a bad marriage, Roth figured out how to use the idea of narrator-confessing-all to his
analyst as a way to break down literary conventions of language, niceness, and restraint.
Readings: Portnoy's Complaint.
4 - November 27: Finding a literary father choosing a lineage and life. In his tenth
novel, Roth confronted the issues of identity, family, history, and artistic commitment
he's explored for 20 years. Roth explores Flaubert, James, Chekhov, Babel and Joyce.
Readings: The Ghost Writer.
WE LOOK FORWARD to MEETING YOU THERE.